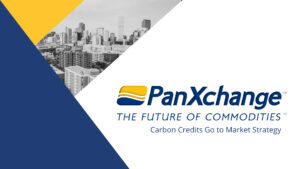 Course Content
By the end of this course, you will learn how to:
Execute a carbon project and earn carbon credits. 

Evaluate economic feasibility of carbon projects.

Find relevant carbon credit generation methods. 

Select a carbon program and registry that fits your needs.

Analyze carbon projects and markets with confidence. 
Course Info
Course will be held on December 8, 2021 at 11 AM MST via Zoom.
First, submit payment and register for the course. Once we receive your registration, our team will reach out with next steps. The live course will take place over a one-hour session, including a Q&A at the end. Please write all questions during the session in the Zoom chat. 
Our team will reach out with your unique access code for the Zoom meeting. If you have any specific questions feel free to send them to carbon@panxchange.com prior to the meeting.
Executive Summary
PanXchange is building a more robust and efficient market for voluntary carbon removal credits derived from croplands. Despite surging demand for "nature-based" credits from croplands, time to market, total costs, lack of market liquidity, and inability to manage price risk are currently prohibitive factors for farmers. Our team aims to alleviate these issues, thus mobilizing investment to combat climate change and rewarding farmers for regenerative practices.
Our first goal is to develop proprietary methodologies for carbon credit generation that are both ISO standard compliant and viable to the client with regard to time and cost. Upon credit generation, PanXchange will leverage its institutional-grade trading platform used for regenerative agricultural products such as US hemp to best allow credit sellers to achieve price discovery and obtain fair market value. PanXchange has begun forming a consortium with large US agricultural trade houses to build market liquidity on the platform as well as leveraging its extensive pre-existing agricultural market network. The data derived from a liquid market on the platform provides a foundation for a benchmark price as well as an exchange-traded derivative to help farmers hedge their price risk.
While the project initially focuses on US croplands, our business model is scalable to other locations and other nature-based project types such as forestry (REDD+), grassland, and ranching. Our team has already garnered interest from clientele in these business areas with regard to joining the PanXchange platform to market their credits.