Canola, Lumber, Rice, Coffee, Continer Ships, and Carbon Sequestration!
[October 12th, 2021]
Hi all, this week we see that the drought in Canada has affected the canola crop, lumber prices are on the rise again, and the Asia to West African rice trade is evolving from the traditional containerization. We will look at the coffee prices in Kenya and how large American retailers are chartering vessels for their cargo in a bid to avoid the ongoing delays at major US ports.
Canada's Drought Forces Canola Importers To Turn Elsewhere
Canada has experienced its lowest canola harvest in 13 years due to drought. This has led to major importing nations that include Japan and Mexico seeking alternative origins and also alternative vegetable oils such as palm and soy oil. 
According to Reuters, Canada exported 388,000 tons of canola during the first seven weeks of the crop year which represents a 71% decrease from the previous year. Canadian crushers that include Bunge and ADM processed 661,968 tons of canola in August alone but representing the lowest monthly level in over two years. 
ICE Canola Futures are trading around C$900 per ton, a 70% increase from the previous year as China has only begun to buy a limited amount of Canadian canola after restrictions were relaxed due to the strained relations. 
Australia and Ukraine are set to benefit from Canada's small crop as they both produced a bigger harvest with China becoming a key buyer as well as Russia.
Lumber Prices Stage A Late Season Rally
Lumber prices are rising again and at $625.10 per thousand board feet, this would be similar to the price level before the pandemic and also a 40% increase since late August as reported by The Wall Street Journal. 
Market analysts view the price as inevitable due to the fact that they need to balance out the supply with the demand but buyers would expect the price level to be similar to the average between 2015 and 2019 at circa $357. 
Futures prices rose up to $1,711.20 this year as global economies started opening up after the highest peaks of covid-19 and later settled to lower levels. Big lumber buyers and builders remained with a lot of stock that was bought at higher prices earlier in the year.
Building companies Lennar Corp and Toll Brothers have recently completed houses that were built using lumber that was purchased at its highest price levels and that expect the margin to improve next year.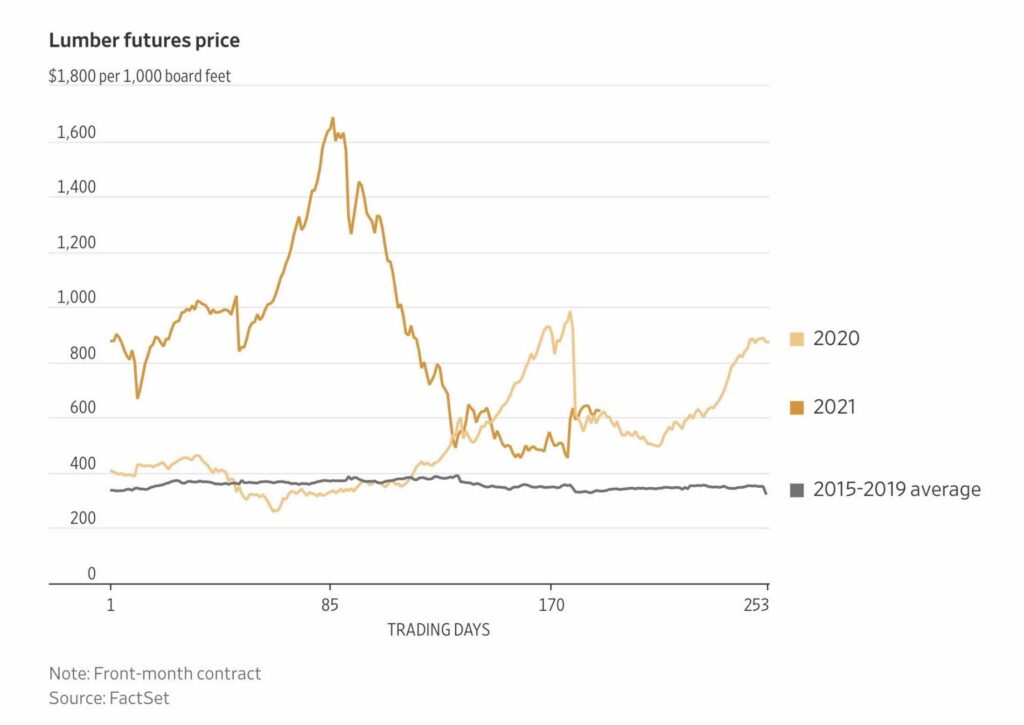 Evolving Freight Situation Continues To Disrupt Asia-To-West Africa Rice Trade
The Asia-to-West Africa rice trade is now seeing more breakbulk as opposed to the traditional containerization, which has higher rates and sometimes even double.
According to the Hellenic Shipping News, traders in Asia see the breakbulk shipments as the only way to remain competitive in the West African markets with current rates from Asian ports to West African ports quoted at $130-$150 per ton. The government in Senegal has controlled the price of broken rice to retail at $543 per ton as a way to control food inflation.  
Breakbulk shipments are not without any problems as they are also facing delays at origin ports such as India's Kakinada Port, which has waiting times of 7-10 days. These port delays coupled with restrictions at ports are making Indian rice less competitive for traders after the country has been the preferred origin for the past two years with competitive FOB rates.
Coffee Dips Below $300 First Time This Year On Quality Concerns
Coffee prices in Kenya are trading below $300 per 50 kg bag as a result of declining quality beans with the current season coming to an end.  This is not great news for quality coffee lovers. 
According to the Business Daily Africa, the Nairobi Coffee Exchange has seen a fall in premium beans that would normally play a key role in the price increases at this time of year as prices were above $300 this time last year.
The New York Exchange, which is used as a benchmark for world prices, has been at a high of over 200 cents a pound from 144 cents a pound in April this year. 
The current crop coming into the Kenya market is originating from the Eastern and Western parts of the country and this would usually supply the auction until November when the main seasons start and covers a majority of supply for the market.
'Containergeddon': Supply Crisis Drives Walmart And Rivals To Hire Their Own Ships
Retail giants including Walmart, Target, Home Depot, Costco, and Dollar Tree are now chartering their own vessels as a way to beat the disruptions and delays in the global supply chain leading up to their busiest time of the year, Christmas. 
According to Reuters, more than 60 containers ships are docked at the Port of Los Angeles with billions of dollars of goods but unable to offload due to delays and this is unusual as pre-pandemic delays at the port would see only one vessel at most queuing up to offload cargo.
Shipping lines are the main benefactors of the crunch in international freight with container's prices to some key destinations seeing rates of $20,000 and this has also resulted in large shippers releasing all available vessels and also entering the second-hand market to purchase containers vessels of all sizes in order to make them available to the global customers. Unfortunately, we don't think global supply chains can get back to pre-Covid normalcy for at least a year.
Australian Government To Award Carbon Capture And Storage Projects With Carbon Credits
The Australian government will become the first national government to grant carbon capture and storage (CCS) projects with carbon credits in order to offset emissions.
According to Gas World, the Australian Carbon Credit Units (ACCU) will be earned through projects and the units can be sold to the government via auctions or on the voluntary carbon credit market.
The government's aim is to increase the investment into large-scale carbon capture and storage hubs in the country and lower emissions from a number of sectors that include liquefied natural gas (LNG) production.
This new initiative is aimed at the government reducing emissions without passing on the cost to households and businesses and the government will continue to explore new technologies such as direct to air capture in order to meet their emissions target.
Interested in advertising with us?
Please contact us at advertising@panxchange.com
Do you have any news that you would like to share?
Please send to  rluwero@panxchange.com or eshoemaker@panxchange.com
-Editors, Ronnie Luwero and Emily Shoemaker