Market Update 06-12-2019
Kenya Market Update
Due to the current maize shortage, the Kenyan government is in the process of finalizing a deal that would allow millers and traders to import maize in a bid to reduce maize price volatility.
GMO Latest
Within the next two months, the Kenyan Cabinet is expected to give the defining verdict on whether to lift the ban on GMOs that was imposed in 2012. All indications are that the Cabinet is likely to give the nod to the controversial technology as the country continues to grapple with a perennial food shortage.
Uganda Market Update
The beginning of June has seen the maize price continue to trade above UGX 1,100 per kg in the Greater Kampala area as the end of the Holy month of Ramadhan has seen a slight increase in business activity. Soybeans remain in demand and the market in the region has seen imports of COMESA states Ethiopia and Malawi. Soybeans have been arriving between USD 650 to USD 680 per metric ton. Uganda is targeted to produce over 100,000 metric tons this coming harvest which will see a slight fall in prices. It is expected that Kenya and Rwanda will be the destination for the bulk of the oilseed.
Prioritizing informal cross-border trade is key to economic transformation
Data from Bank of Uganda indicates that informal cross-border exports earned a combined $595m in the 2017/18 financial year with DR Congo continuing to dominate as Uganda's export destination fetching up to $291m in the period. It was followed by Kenya at $149m, Rwanda and South Sudan at $54m each while Tanzania fetched some $45m. Agricultural produce – mainly beans, maize, sugar, other grains, bananas and fish as well as locally manufactured goods – were the most informally exported items during the period. Therefore, it is quite important that while priority continues to be given to formal traders, some focus ought to be directed towards informal cross-order traders too. A 2015 study conducted by United Nations Economic Commission for Africa indicated that informal trade in Uganda provided more than 59 per cent of non-farm private sector jobs, underscoring its significance in addressing Uganda's unemployment challenge.
Rwanda firms turn to soybean exports to plug deficit
Rwanda is facing a soybean shortage amid growing demand for the crop, which is used as a raw material for fortified food. While local production has increased over the years, supply remains below demand, prompting food dealers to depend on imports from the region. However, there is also a supply shortage elsewhere in East Africa due to trade disruption over escalating tensions between Uganda and Rwanda. Market analysts have also partly attributed the hike in regional soybean prices to the trade war between the US and China, as Beijing chose East Africa as one of its alternative soybean sources, after it imposed 25 per cent duty on soybean imports from the US last year.
Zimbabwe plans maize tender
Zimbabwe's government plans to boost corn imports as adverse weather slashes the southern African nation's harvest. The country's Grain Marketing Board will float an international tender to import 750,000 tons of the grain. That amount would mark Zimbabwe's largest corn imports in a season in three years, according to US Department of Agriculture data.
Selected Africa Market Values: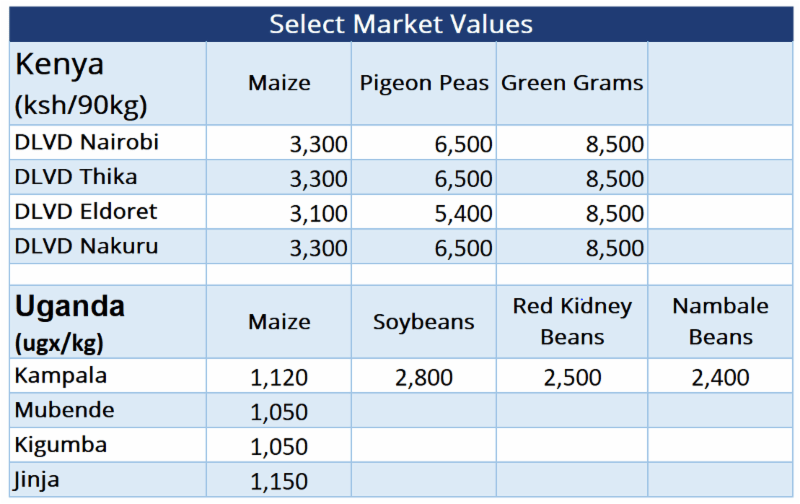 Pricing Map: