Access Hemp Trading
Are you a hemp industry stakeholder? Would you like to access our FREE Trading Platform?
Get started by creating a PanXchange.com account:
Already have a PanXchange account?
PanXchange Background
PanXchange is a market structure solution for physical commodity markets. Our suite of services includes an OTC trading, price discovery platform (benchmark pricing), and also includes consulting services. The trading platform is designed by a veteran Cargill commodities trader to scale across any commodity or geography, with a focus on development throughout the seven stages of the physical commodity market.
PanXchange launched its third live market in January 2019 for industrial hemp indices after our first exchange platform in the East African agriculture market in 2015, and the U.S. upstream oil and gas industry in 2018.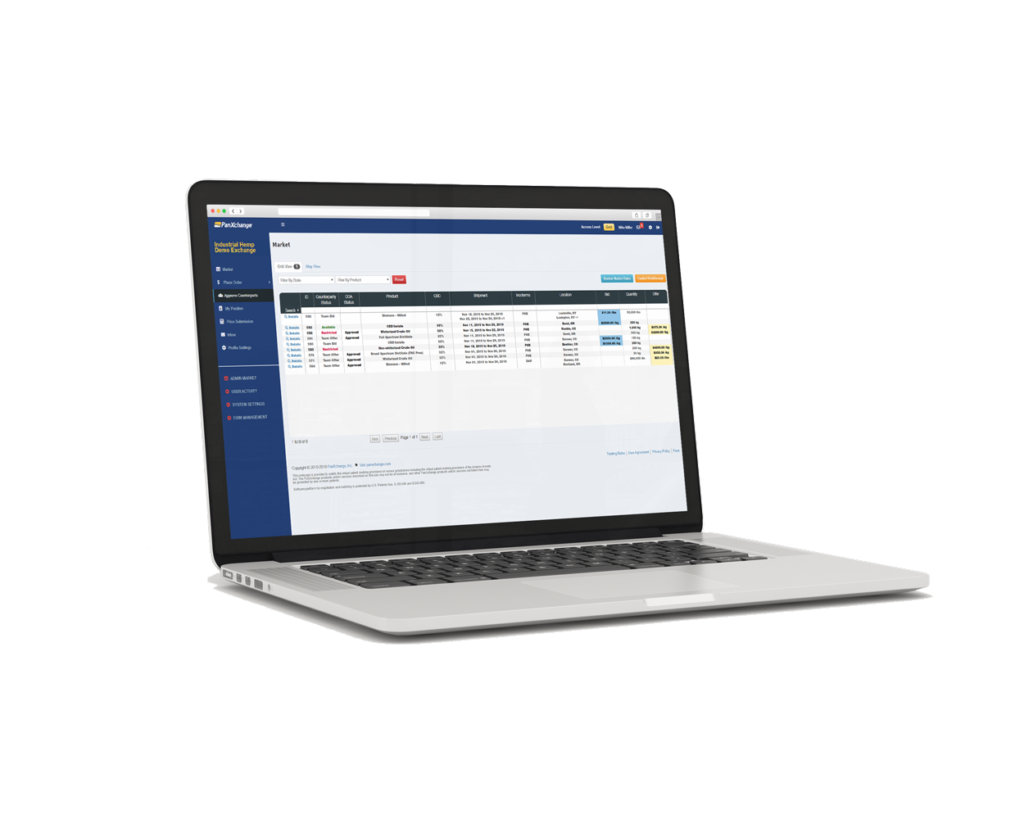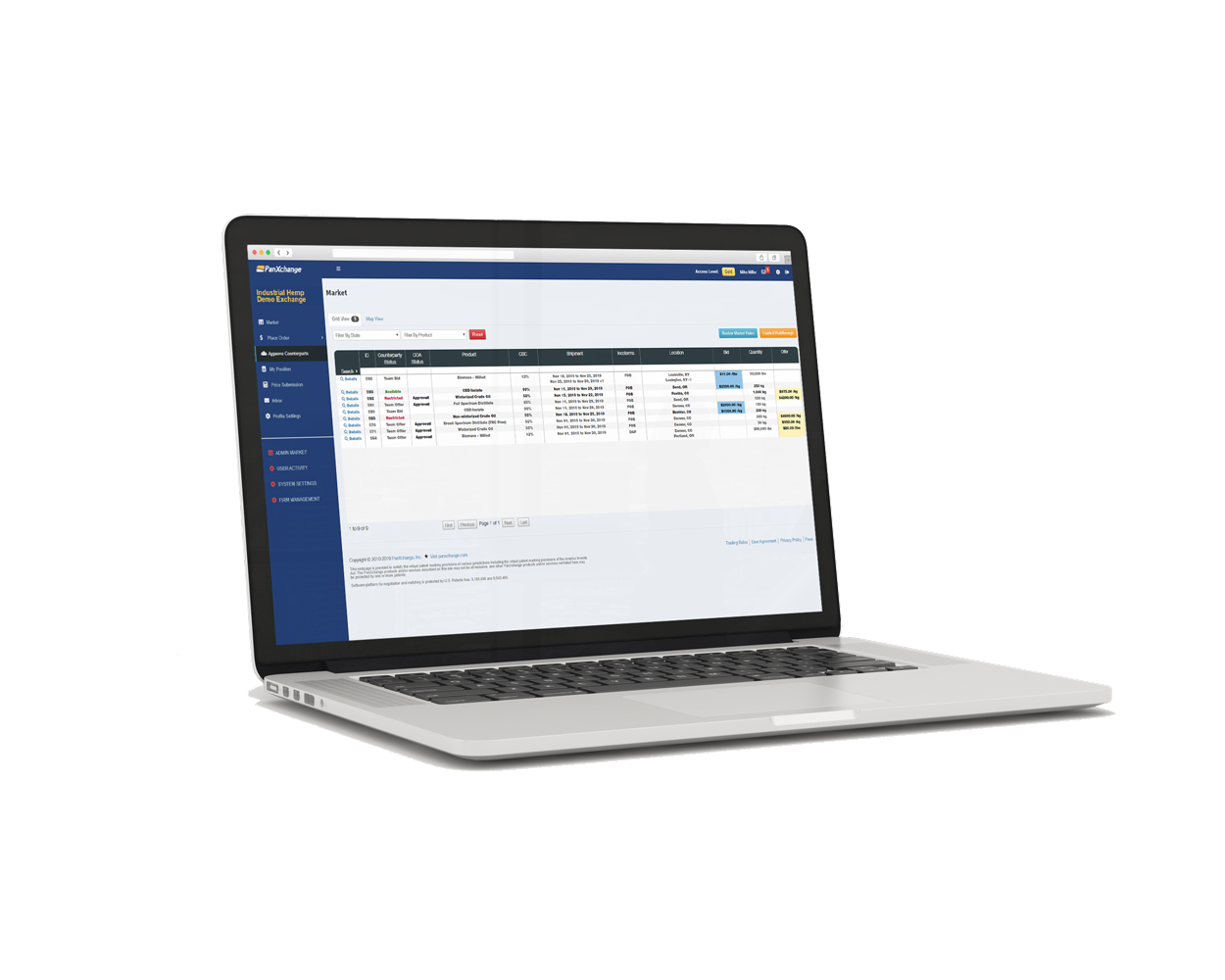 PanXchange aggregates the negotiation and trade of all types of physical commodities into one web-based platform, offering instant price discovery and market access for increased operating efficiency and profit opportunities. Our goal is to increase price transparency, market access, and efficiency by putting the market in your hands. 
The Physical Exchange
The PanXchange® hemp platform offers a user-friendly, centralized marketplace to source and trade hemp biomass, crude oil, isolate, distillate, flower, and announcements to come regarding industrial products (hemp hurd, fiber, grain, and other co-products). It is the only institutional-grade platform in production, replete with counterpart management, anonymous trading, and negotiation of every aspect of the trade (quality, delivery window, payment terms, etc.) and no costs related to clearing or regulation. 
The trading platform is open for those only directly involved with the United States hemp supply chains, such as hemp producers, processors, CPG manufacturers, and trade-houses. All members must complete the PanXchange New Member vetting process before account creation as the PanXchange team is committed to diligently checking each prospective new entrant to the platform. 
The exchange is not open to financial speculators and brokerage firms.
For more information, reach out to the hemp team at hemp@panxchange.com or by submitting a request for a demo. 
Consulting
PanXchange comprises a team of physical commodity specialists. As such, we focus on true fundamental analysis, tailored advice that focuses on profitable outcomes, and deep industry experience in supply chains and deal flows.
Examples:
Our supply and demand analysis is presented in terms of acres, tons and pounds of product inventory, not a pie-in-the-sky market valuation based on an obscure and fluctuating dollar value
Our business planning is not just focused on financial modeling, but years of experience in commodity logistics that address the challenges and opportunities getting product to market
Our analysis of pitch decks and financial models applies real world experiences launching new ventures and the practical amount of time and funds that should be allocated
Our team has deep experience working for such companies as Cargill, Sempra Energy, StoneX, JBS, and RS Energy Group (acquired by Enverus). We have raised millions of dollars for new ventures, we have won numerous awards and pitch competitions, and we have traded millions of tons of agricultural products that moved from the grower to the processor and trade house domestically and internationally.
Data Analytics
PanXchange's trading platform, coupled with benchmarking services, the second core pillar of our business, provides a unique and much-needed solution for the opacity, fragmentation, and inefficiencies in the burgeoning hemp market. 
PanXchange® Hemp: Benchmarks and Analysis allow you to stay informed with the rapidly evolving US hemp market featuring monthly updates with interactive pricing charts, dashboards, and unique market intel. The monthly fundamental analysis provides the most objective pricing for companies to formulate decisions, hedge their price risk, and forecast revenues and expenses. 
Notably, PanXchange® hemp benchmark prices are the leading price provider as our price submitter network comprises ONLY our vetted growers, processors, trade houses, and end-users (no brokers, no analysts, industry reps).  
Biomass Spot Pricing
Colorado

Kentucky

Oregon

Great Plains

Northeast
Refined Product Pricing
Colorado Winterized Crude

Colorado Full Spectrum Distillate

Colorado Broad Spectrum Distillate

Colorado Isolate
Industrial Market Pricing
True Hemp Fiber
Hemp Grain