PanXchange® Hemp: Benchmarks & Analysis – Mar 2019
Spot Prices
PanXchange produces indices for emerging commodities bringing price transparency, price discovery, and key market intelligence. We acquire pricing information by conducting surveys with vetted and anonymous market participants and make expert assessments based on a variety of factors. We will publish monthly spot biomass assessments for Colorado, Oregon, and Kentucky, with plans of expanding crude, distillate, and isolate reporting as well as additional regions. As the market evolves, PanXchange will evolve with it. Monthly assessments will be published on the last Thursday of every month. As a new service to the industry, we encourage you to forward the newsletter to any parties that may be interested.
Please reach out to RJ Hopp by email at
 r.hopp@panxchange.com
 or by phone at (720) 215-9228 for any questions or comments.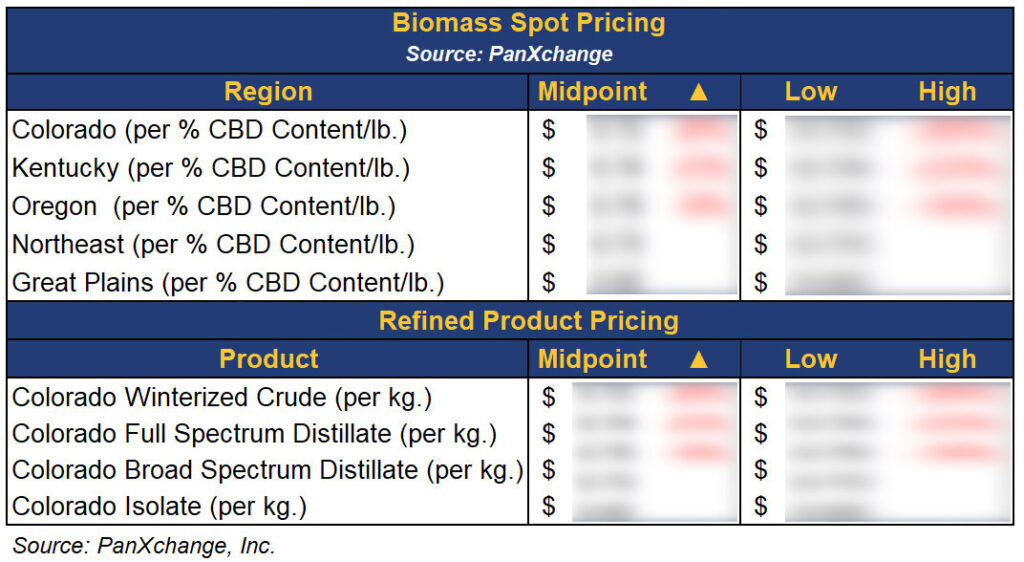 Market Updates
General Updates:
PanXchange will be attending the NoCo Hemp Expo in Denver, Colorado on March 29th and 30th. We will be located at booth #25 and invite everyone to stop by and meet the team!
Due to overwhelming demand, PanXchange is actively working to expand the data-points covered in our market assessment to include distillate, isolate and additional locations for our current indices. For more information on this project, please reach out to the PanXchange staff at r.hopp@panxchange.com.
State of the Hemp Industry:
While the 2018 Farm Bill legalized hemp on a federal level, it concurrently delegated the right for each individual state the right to propose state-specific legislation as they see fit. Forty-one states have passed legislation regarding hemp to date, with nine states (Idaho, South Dakota, Texas, Iowa, Louisiana, Mississippi, Connecticut, and Georgia) still debating on how to regulate the nascent industry. Substantial progress is being made as six of the above nine states; Idaho (House Bill 112), South Dakota (House Bill 1191), Texas (Senate Bill 116), Georgia (House Bill 213), Ohio (Senate Bill 57), and New Hampshire (House Bill 459) currently have bills going through the legislative process. News regarding industrial hemp as a topic in state governments is promising, however, these states are most likely poised to have a greater impact in 2020 and beyond as every day that passes limits the much-needed time for farmers to source seeds, allocate land, and comply with new laws.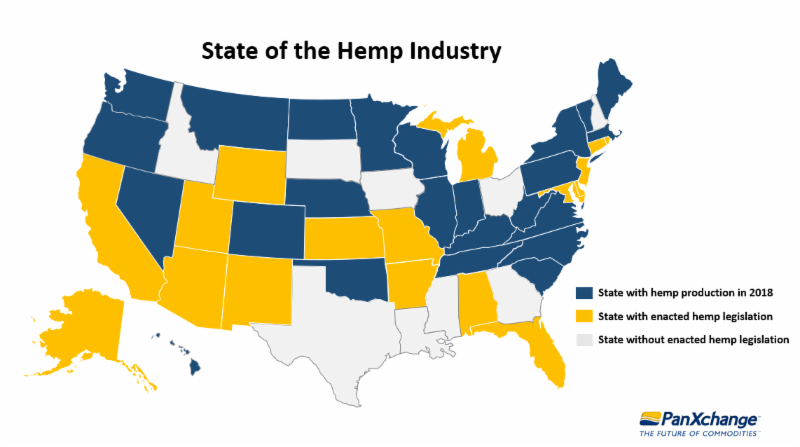 For more information on the state statutes and bills passed regarding hemp research and cultivation click here.
Looking forward, United States hemp production is poised to continue the trend of exponential growth seen over the past few years. In 2018, only nineteen of the forty-one states that had passed legislation allowing commercialization or research of industrial hemp devoted more than 100 acres of land to hemp production. In the states that produced hemp in 2018 alone, there are plenty of opportunities for experienced farmers to expand production and bring additional supply to the market. According to initial forecasts; Colorado, Kentucky, Oregon, and North Carolina are all projected for significant production increases, exceeding 130,000 acres planted combined in 2019.
Consistent quality and yield per acre will remain one of the most important topics to those looking at supply and demand fundamentals, however, there are several scenarios that can ultimately impact this outlook. For example, there are negative factors at play with the traditional agriculture crops which could incentivize farmers to plant more hemp and seek higher profit opportunities. Conversely, an influx of inexperienced farmers could face quality and yield problems in addition to credit issues, lack of insurance options, and the lack of hedging mechanisms which could deter farmers from making a sizable investment in growing hemp for the 2019 crop year. In conclusion, it is too early to predict exactly how the 2019 growing season will unfold, but many signs are pointing towards the industry keeping the positive momentum realized over the past few years.