PanXchange® Hemp: Benchmarks & Analysis – Jan. 2020
Spot Prices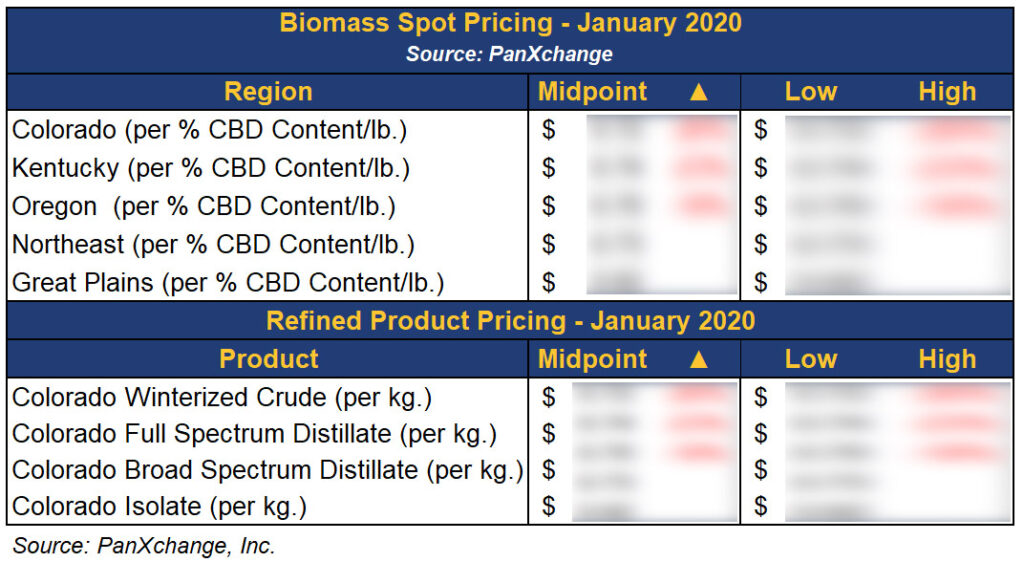 PanXchange produces indices for physical commodities to bring price discovery and key market intelligence to thin and/or nascent sectors. As a service to the US hemp industry, PanXchange publishes nine monthly price assessments for Colorado, Oregon, and Kentucky on the last Thursday of each month. We plan to expand the current crude, distillate, isolate and regional reporting as the market evolves, and encourage readers to forward our PanXchange ® Hemp Benchmark Pricing and Analysis Report to any interested parties.
Important note to readers: 
Beginning next month, PanXchange will be offering a complimentary executive summary of our monthly report. To access the full report, the full suite of benchmark prices, historical data and interactive charting, please click here to subscribe.
The PanXchange team is happy to introduce two new regional indices for biomass this month: Great Plains (Michigan, Wisconsin, Minnesota, & Illinois) and the Northeast (Pennsylvania, New York, Massachusetts, Vermont, & Maine). With these new biomass benchmarks, we can begin to see a national view and compare different regional markets to one and another.
Connect with us: 
Will you be at the Emerald Scientific Conference in San Diego, California or the Industrial Hemp Summit in Danville, Virginia? We'd love to meet in person. Send us a note at hemp@panxchange.com.
In this issue: 
Prices and Market Analysis – introducing 2 new regional indices: the Northeast & the Great Plains
Domestic legislation update
Global trade
Industrial hemp – Fiber analysis (new)
Survey results and new survey
Methodology:
Pricing information is collected via the PanXchange trading platform and surveys of thoroughly vetted market participants. The data is then analyzed using our proprietary methodology and follows International Organization of Securities Commissions (IOSCO) guidelines. Please reach out to the PanXchange hemp team by email at hemp@panxchange.com or by phone at (877) 917-9658 for any questions or comments.
Market Updates
Domestic Legislation:
With regard to legislative clarity, the 2019 trend of two steps forward while taking one step back has stumbled into 2020. Some states have submitted plans to the USDA for review and others have already had their plans approved. Other states have simply taken the public position that the suggested USDA guidelines could have long-standing negative impact on the hemp industry. Earlier this month, Kentucky Commissioner of Agriculture Ryan Quarles announced that Kentucky will operate under the same rules that were in place for the 2019 growing season. According to Quarles, "Nothing is changing in terms of the 2020 grow season… This gives us more time to perfect genetics for industrial uses on farms and give guidance for farmers." Kentucky will be joined by states such as Arkansas, Colorado, Maine, Maryland, North Carolina, Vermont, Minnesota, Missouri, New Mexico and Wisconsin whose respective state agriculture representatives have expressed similar concerns about adopting drafted rules before they are finalized. More specifically, they feel that the window between when the draft was published on October 31st and the deadline for farmers to decide what should be planted in 2020 is far too short. The eleven states listed above are not an exhaustive list. Additional states are mulling over the same proposition and we expect announcements to be made public in coming weeks.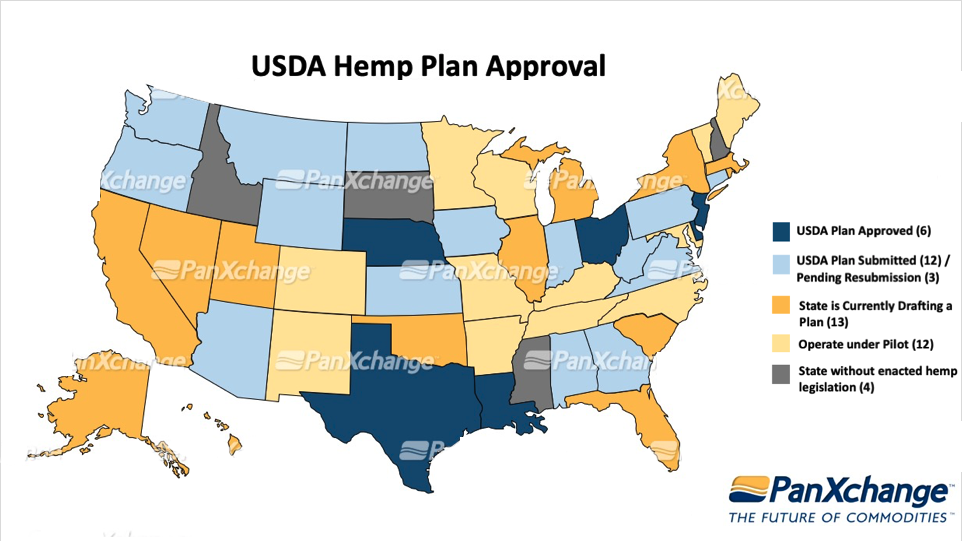 As it stands now, six states (Delaware, Louisiana, Nebraska, New Jersey, Ohio, Texas) have submitted hemp production rules that have been approved by the USDA, 15 States have submitted – or are in the process of re-submitting proposals and 13 states are currently drafting a plan. An interesting trend is emerging as states who have historically had hemp production and a more established industry appear to be more opposed to the adoption of the USDA rules versus states who have not and are implementing the USDA drafted rules for the first year of production.
Within the issue of which rule-set could and should be followed, the topic of how to determine if biomass compliant is paramount. Timing of the testing is hotly debated but the biggest issue centers around whether the test should focus on delta-9 THC to total THC (the presence of both delta-9 THC and THCa converted to delta-9 through decarboxylation. . As depicted in the map below, 38 out of the 46 states with some sort of hemp legislation are testing for total THC, while the remaining 8 states are solely testing for delta-nine THC. Interestingly, our research team has noticed that even what's being said at each state's level is often contradictory to what's described on its website and additional publications. Nonetheless, it's apparent that the general regulatory stance is moving towards Total THC which is a dramatic shift from the past couple of years.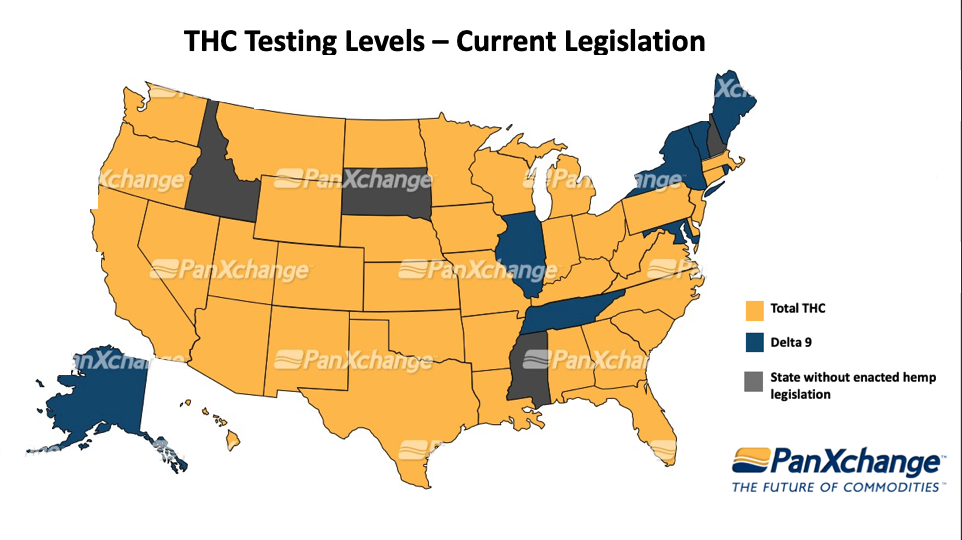 Genetics continue to remain a hot topic as many farmers are making decisions on planting for production of fiber, CBD, or other cannabinoids in 2020. Beyond deciding which target market to focus on (CBG, smokeable, industrial, etc.), deciding what strain supplied by which genetics company is a tall task as well. Although the USDA maintains that they are not certifying seed inputs at this time due to a lack of historical data, the Kentucky Department of Agriculture published an extensive list (found here) of what strains have been concluded to have the tendency to exceed local laws concerning allowed THC potencies. Out of the 248 varieties listed, 103 are labeled as a variety of concern, while 37 have been banned.
In other news, a list of DEA certified labs has been posted on the USDA website despite earlier reports that posting such information was against government policies. Thirty-seven laboratories made the initial list and since has been expanded to 44. While this is a positive step in the right direction, Our view at PanXchange is that 44 is still far too few handle the testing nationwide and severe delays getting product from farm to processor will occur unless we significantly increase the number of labs approved for testing.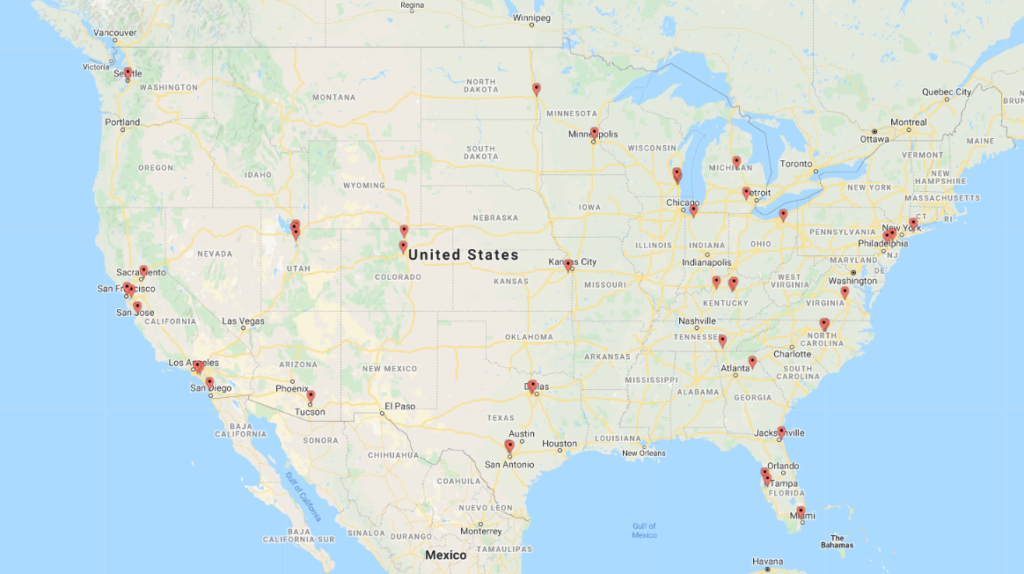 Kentucky, again, has chosen to address the testing problem head-on. Kentucky House Bill 236 passed the House of Representatives with the goal of expanding options for industrial hemp testing while keeping compliant with the state's hemp program.
Representative Matthew Koch stated that the Kentucky government has desires to "speed up that process and allow options." While the bill still is yet to pass the state Senate, an interesting development still requiring clarity is THC potencies of refined products such as crude oil and distillate. Representative Richard Heath not only expressed support for increasing the THC threshold from 0.3% to 1%, but the bill is also to clarify that licensed hemp processors could legally transport material that exceeds 0.3% THC within the state if that material is transported directly between the two parties. If the bill passes the Kentucky senate, this would be a major step in the government not only recognizing that the extraction and distillation process does indeed increase potencies of all cannabinoids, but also begins to go beyond making laws that only mention raw hemp needing to meet THC potencies to remain compliant.
Global Trade:
The trade deal between the US and China was signed on January 15th, with China agreeing to import an increased amount of American goods by 2021, including $19.5 billion worth of agricultural goods (compared with $33.9 billion of energy goods). While the long list of agricultural products included traditional crops like soybeans, cotton, grains and meat; the document itself included hemp fiber defined by "True hemp (cannabis sativa l.), raw or processed but not spun; tow and waste of true hemp including yarn waste and garnetted stock." Note that China is the largest producer of hemp globally, mainly for the production of fiber, seed, textiles and food sources. Approximately half of the world's production stems from the Yunnan and Heilongjiang Provinces.
It is encouraging to see hemp included in global trade negotiations and speaks to the trajectory of hemp in the US in its march towards maturity. However, as the largest producer of industrial hemp fiber, it's questionable how much of this product would actually ship from the US. China has been insistent on diversifying import sources while it continues to develop domestic production, yet this trade deal is not going to lift the US hemp industry out of its current oversupply.
Looking beyond China, exports of US hemp products is still unclear, yet it's clearly a growing topic in the industry and there's an obvious interest for CBD product manufacturers to expand outside of the US. Expanding from the PanXchange December report that referenced data from New Frontier Data, the US accounted for 28% of the global hemp based product sales, second to China at 33%, and edging out Europe (27%) South/Central America (6%).
While global demand is indeed increasing, United States import and export regulations are still cloudy regarding the legality of moving hemp across borders. According to the Customs and Border Patrol website of the United States, the CPB still states that "Products containing THC, the hallucinogenic substance in marijuana, are illegal to import. Products that do not cause THC to enter the human body are therefore legal products."
Despite the continued lack of firm guidance on import and export rules, American companies continue to explore opportunities to produce hemp outside of the US, such as in Latin America due to lower operating costs and the opportunity of multiple harvest a year. The USDA continues to express intent to clarify these procedures, however, given the status of the USDA domestic hemp rules and the vocal pushback by individual state governments, the likelihood of a true global and free market developing in 2020 is improbable. Also, when looking at more mature commodity markets, one must consider the possibility that hemp from countries with lower production costs would face significant import taxes in an effort to protect the American farmer.
Industrial Hemp:
It is important to remember that hemp is more than just CBD, which is something that has been overlooked in the industry's excitement since the 2018 Farm Bill. As a recurring section to our current market analysis, we will begin to take a deeper look at the full usage of the cannabis plant. Considering how the World Economic Forum in Davos has been referred to as the Climate Change Conference, we thought it was a good time to discuss the benefits of hemp vs. cotton from an environmental perspective, as well as from an economic perspective.
Cotton is one of the most regulated agricultural crops in the US, with involvement from watchdog agencies such as the U.S. Environmental Protection Agency (EPA), the U.S. Food and Drug Administration (FDA), and state level organizations. 13.8 million acres of cotton were planted last year (link 2) in the United States, and the United States is the largest exporter of cotton in the world. Of the approximately 230,000 acres of hemp grown last year, the vast majority of the crop was grown for the oil the plant produces, and not the other alternative uses of the plant.
Hemp grown specifically for fiber is by no means a new commodity, with hundreds of years of research supporting the resurgence of the crop that is grown specifically for its height & strength, and not its flowers & cannabinoid levels. The hemp stalk can be utilized in many ways, with an emphasis on the hurd and the bast fiber. Bast fibers are the skin or bark of the hemp stem, which, depending on the strain and planting density, typically accounts for 20-30% of the stalk. There are two types of bast fibers: primary (which make up 70-90% of the bast) and secondary bast fibers. When viewing hemp as a substitute to cotton production, the primary bast fibers are more valuable and found in taller species of hemp plants. The primary bast fibers are more sought after for the application into textiles due to their length and strength. They are high in cellulose (50-70%) and low in lignin.
An added bonus when farming for fiber usage is the use of modern planting & harvesting techniques seen in other agricultural products. The stems are cut as low as possible and must now undergo a retting process, where the the bast fibers are separated from the hurd of the stem. Moisture and microbacteria are employed to dissolve the cellular tissues and pectins that bind the bast fiber to the hurd. The now retted stems are ready for decortication, a process that physically separates the bast from the hurd. Large scale decortication and further hemp bast processing infrastructure is lacking, to say the least. Hemp fiber farming has a rich history in the US, so taking a look at our past will be our best gameplan to prepare for the future.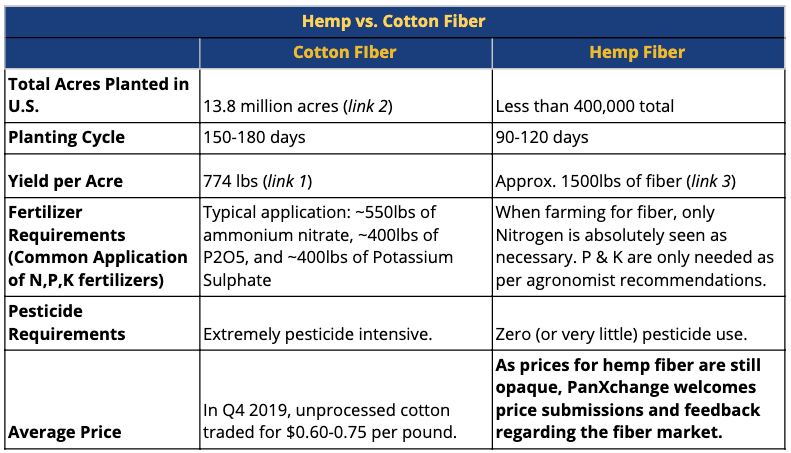 JANUARY SURVEY
1) I am a:
Grower
Processor
CBD Manufacturer
Vertically integrated player
Broker
Reporter Analyst
Investor
2) With regard to Kentucky's ban on certain seed varieties:
I'm glad they are protecting the industry from potentially hot crops
I don't think the state has a right to dictate the types of seeds – it's the grower's responsibility to select the best seed for their business.