PanXchange® Hemp: Benchmarks & Analysis – Jan. 2019
Spot Prices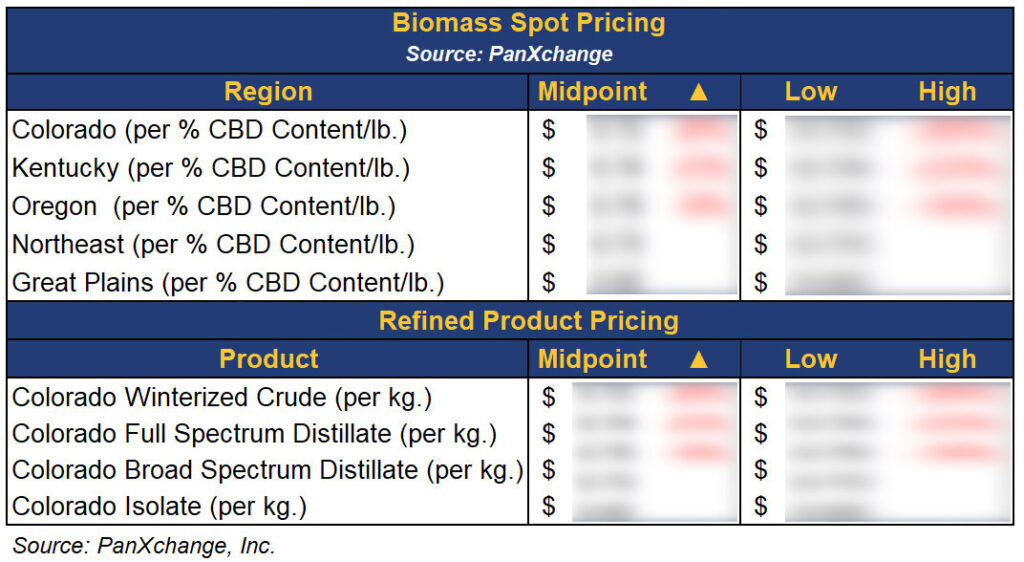 Today marks the first edition of the hemp market pricing update. PanXchange produces indices for emerging commodities bringing price transparency, price discovery, and key market intelligence. We acquire pricing information by conducting surveys with vetted and anonymous market participants and make expert assessments based on a variety of factors. We will publish monthly spot biomass assessments for Colorado, Oregon, and Kentucky, with plans of expanding to crude and distillate as well as other regions. As the market evolves, we plan on evolving with it. Monthly assessments will be published every 4th Thursday of the month. As this is a new service to the industry, we encourage you to please forward to whatever parties that may be interested.
Please reach out to RJ Hopp by email at
 r.hopp@panxchange.com
 or by phone at (720) 215-9228 for any questions or comments.
While at the time of harvest biomass was generally trading in the range of $x.xx to $x.xx per percentage point of CBD content (/point), the biomass market has since softened.
The Colorado biomass market is currently trading in the range of $x.xx to $x.xx/point as the majority of volume is still moving into larger Colorado processors capable of weekly throughput of 5,000 to 10,000 lbs. There are several float deals and revenue splits being offered in Colorado that promise higher returns on the back-end dependent upon material extraction efficiencies, and are offering down payments ranging from 5-20%.
Several large lots are still not sold in Oregon, as farms are holding out for $x.xx-$.xx/point. Many of these sellers have been disillusioned by fake bids and unicorn deals, some also may be influenced by pricing in the hemp trimmed market which can bring $xxx-xxx per pound. The smaller processors in Oregon will pay around $x.xx/point, however lower regional throughput means that there is a lot of quality biomass in the Northwest.
In the Southeast, forced harvests and lower quality genetics within vertically integrated farm networks have led to a surplus of 4-6% CBD content material, when most buyers are looking for a minimum 10%. Offers from these groups in the $x.xx-x.xx/point range are out there, but buyers are willing to pay closer to the $x.xx/point range for quality material, especially farther East where a lot of acreage was impacted by the fall hurricanes.
The market for crude oil has been erratic to say the least. Kilograms of non-winterized, non-decarbed crude have been moving between $x,xx-$x,xxx dollars however the price associated with the product comes down to how it was extracted. Solvent-extracted crude is trading at a discount, regardless of a clean residual test, CO2 supercritical holds the middle of the market, and CO2 subcritical demands the highest price as fewer waxes need to be removed in post-processing.
Winterized crude oil is generally trading between $x,xxx and $xx,xxx– that's not a joke. Downward pressure on the flooded November and December market had people thinking that $x,xxx was the going rate, but in the end, prices seemed to have since rebounded. Smaller end users will pay a king's ransom to supply mom-and-pop tincture lines, with lower-priced volume feeding isolate production.