PanXchange Announces New Partnerships for Climate-Smart Agriculture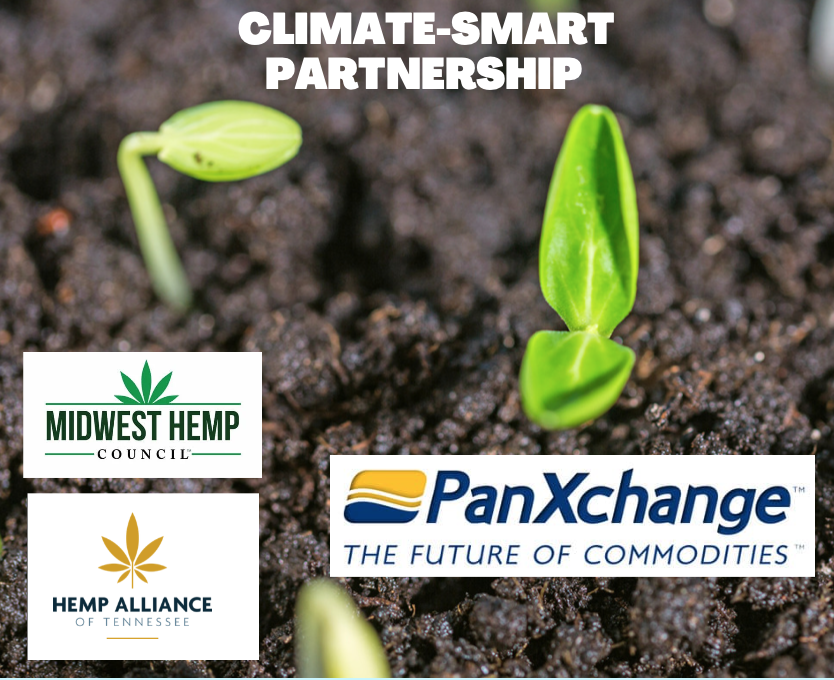 PanXchange
What: PanXchange, the Midwest Hemp Council and Hemp Alliance of Tennessee Announce Partnership for Climate Smart Agriculture
What's New: Association members will receive added value in education and pricing data, along with access to PanXchange's inclusive voluntary carbon credit market platform.
Find out more at: PanXchange.com,  Midwest Hemp Council and Hemp Alliance of Tennessee.
Denver, CO, July 13, 2022 — PanXchange, a commodity market structure solution and benchmark price provider for agricultural commodities, announced that the company has signed a memorandum of understanding (MOU) with two organizations representing independent US farmers. The partnership will offer a path to financial incentives for carbon sequestration by US agricultural producers.
Julie Lerner, founder and CEO of PanXchange, states, "Partnering with strong agricultural membership organizations like the Midwest Hemp Council (MHC) and Hemp Alliance of Tennessee (HAT) is a win/win for all involved." She further explained, "We aim to be the most accessible, economical path towards remuneration for carbon smart agricultural practices for smaller-scale farmers who face barriers to participate in the voluntary carbon credit market."
The partnerships will allow farmers in the network to take advantage of PanXchange's deep knowledge of commodity trading and the potential impact of implementing climate-smart practices. Specifically, its carbon program that provides farmers a viable path toward financial rewards for implementing regenerative agricultural practices. Moreover, Lerner explains that the PanXchange program gives farmers full ownership of the carbon credits earned and full agency to market the credits directly to buyers through its online trade platform.
"We aim to be the most accessible, economical path towards remuneration for carbon smart agricultural practices for smaller-scale farmers who face barriers to participate in the voluntary carbon credit market," Lerner said.
The company already has 31,000 acres of croplands committed to the program for the 2023 crop year.
Other aspects of the MOU include:
●      PanXchange's carbon program will be the preferred vendor for independent producers who are members of HAT and MHC under the new agreement.
●      PanXchange will serve as the preferred vendor for commodity trading and market fundamental data, such as pricing data, for members of MHC and HAT.
●      MHC and HAT will partner with PanXchange to craft joint educational programming on carbon credits and regenerative agriculture.
●      PanXchange will serve as MHC and HAT's preferred vendor for research projects involving climate-smart commodity markets and climate-smart practices.
"Small-scale independent farmers need an on-ramp to the voluntary carbon market so they can be rewarded for sustainable practices that can help our soil and our planet," said Frederick Cawthon, president of Hemp Alliance of Tennessee. "We're proud to partner with PanXchange to make sustainable agricultural practices more accessible to our members; creating a stronger industry depends on collaboration across disciplines."
The Hemp Alliance of Tennessee recently announced a partnership with the Tennessee Department of Agriculture and the University of Tennessee to lead a study on the feasibility of the production of hemp fiber in the state.
"Farmers need no-nonsense educational resources about the opportunities and rewards of carbon credits, so those who make climate-smart growing choices will reap the benefits of those decisions," said Jamie Campbell Petty, co-founder and executive director of Midwest Hemp Council. "Since 2015, the driving factor for Midwest Hemp Council has been increasing environmental and economic diversification for farmers through hemp as a crop option.  This partnership underscores our commitment to our members and the industry, from seed to shelf.   PanXchange shares this commitment. Now, through their proven expertise and experience, PanXchange will be the gateway for our members' access to the benefits of climate-smart practices."
About PanXchange: PanXchange specializes in creating ESG-focused physical commodity trading markets and benchmark pricing for better risk management. The firm is launching a vertically integrated and inclusive agricultural carbon program relying on its strong foundation in regenerative agriculture to generate carbon credits for sale on its platform. In doing so, PanXchange has developed buyer-approved and farmer-friendly carbon project methodologies for croplands and grasslands to lower the cost of entry for the average farmer.
About Midwest Hemp Council: Midwest Hemp Council stands as a credible information center, a trusted policy advocate and a dedicated trade organization for the hemp industry in Indiana and beyond.  Since 2015, we have focused on a full plant economy, from seed to shelf, supporting full access to hemp as a diversified crop option.
About Hemp Alliance of Tennessee: Founded in 2020, The Hemp Alliance of Tennessee is a nonprofit trade association centered around empowering and growing a thriving hemp industry in the state of Tennessee. We support ethical business practices, including accuracy in labeling, use of environmentally-friendly technologies, sustainable and organic agriculture, a concern for human rights, and a drive to ensure we are creating high-quality products.
For more information
Contact PanXchange: 877-917-9658 or info@panxchange.com
Contact: Frederick Cawthon, Hemp Alliance of Tennessee info@yourhat.org
Contact: Jamie Campbell Petty, Midwest Hemp Council: jamie@midwesthempcouncil.net