Liquidless Lithium Lunch
The end of an era happened last week. LME's "The Ring" — one of the last remaining face-to face trading floors announced traders will no longer be able to drink alcohol during working hours. The three most notable old school facets of commodity trading are a physical floor trading, suit and tie, and liquid lunches.
…And this is what the LME took first.
LME and Fastmarkets
Just before the liquid lunch announcement, LME announced a partnership with price reporting agency Fastmarkets at the Lithium Supply & Markets conference to "promote market uptake of a transparent and representative global lithium price." The partnership aims to standardize the pricing mechanisms in order to launch a lithium futures contract.
That mission is a tall task. The global lithium market is geographically fragmented and dominated by a small number of major firms.
Price Discovery
While there are outlets that provide a general price indication for lithium markets, the reliability of the benchmarks provided are often questioned by industry players. Producers negotiate spot transactions directly with buyers and don't typically disclose deal terms.
Among the majors, Abermarle (ticker $ALB) focuses on long term off-take contracts, pushing for 10-year supply agreements. At the conference, VP of corporate strategy and investor relations David Ryan said, "For us, a price index goes against that strategy, a price index tends to support a commodity market, and that is not what we believe lithium is … (That's why) Albemarle will not be providing price information to the index."
SQM ($SQM) uses more short term contracts but keeps deal terms separate, and, like most other players, claims that lithium is not a commodity but a speciality chemical that has different specifications depending on the customer. Tianqi Lithium gave a similar sentiment about lithium as a commodity.Of course, major players and incumbents will always be hesitant to change or giving up information they view as cutting into margins, but with these three firms comprising the majority of global production, the supply concentration will be a major hurdle to overcome.
Electric Vehicle Markets
Lithium's main advantage is energy density and number of recharge cycles with minimal storage deterioration. This is particularly useful in vehicles who make up the majority of the lithium demand. The International Energy Agency recently published their 2019 Global EV outlook, breaking down growth by region and country.
For 2018, China remained the largest market for EVs with 1.1 million sold and a total stock of around 2.3 million. But China's Ministry of Finance announced that subsidies are set to be cut by around half for most cars, and completely for any with a range under 250 kilometers. These regulations set to go into effect when the transitional period ends on June 26th.
As of March of this year, there were 486 EV manufacturers in China, but with the recent changes to subsidies many will consolidate or close shop.
Europe was the second largest market for EVs, with 1.2 million of total stock, and Norway took the medal for largest market share of new sales, with 46% of new vehicles sold being EVs.
While changes in subsidies and incentives will potentially change the breakneck speed of EV sales, global growth will continue to drive lithium demand higher.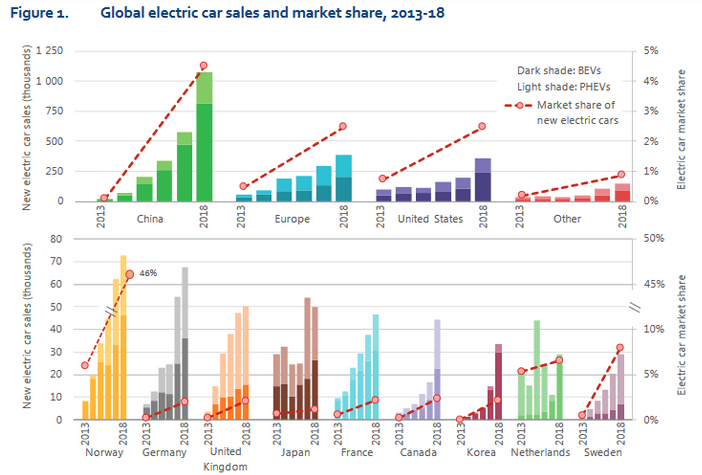 Grid Scale Batteries
While EVs are currently the highest source of demand for lithium batteries, with the growth of non-dispatchable renewable energy, grid scale energy storage is projected to grow rapidly in the future.
Tesla recently launched a 100MW/1289MWh grid-scale battery in South Australia to provide peaker and frequency control to the grid, and "solar plus storage" plant bids are the hot topic in the utility industry.
Rivian, an EV manufacturer that is introducing the first all electric pickup truck, aims to turn its used EV battery packs which no longer hold enough charge to be energy efficient in a vehicle into storage.
With the majority of the global fleet dispatched with the past few years, and most EV batteries given 10-30 years of usage depending on manufacturer, this project brings up a potential problem that the EV industry has yet to face in significant fashion: large scale recycling of lithium batteries. Because grid storage doesn't need the energy density required by vehicles, slightly depleted batteries are good use for stationary grid storage. But, eventually a strong recycling market and technology will certainly be needed.
Vanadium redox flow batteries
Because grid-scale energy storage is not bound by size or weight, scaling up is easier than on vehicles. One grid-scale battery type currently in operation around the world is the vanadium redox flow battery.  VRB energy, a Canadian based energy company owned by a mining firm, launched the first phase of their Hubei Zaoyang vanadium flow battery in late 2018, and a few other projects are live around the world.
The main use of Vanadium is steel production as a strengthening alloy. From available information, vanadium prices rallied almost 1000% over two years through the end of 2018 after new rebar regulations were enacted in China in order to make buildings more earthquake resilient, but have since dropped by around 60% after the regulations went into effect, from a low of around $3/lb to a high of almost $34/lb, falling back down to $8/lb in June.
Researchers in the 1930s found that vanadium ions in different oxidation states hold electricity and work as a fairly simple rechargeable battery, but not until recently was the technology demonstrated effectively. Because of how the system works, with liquid flowing from a charged to uncharged stage, scaling up simply requires adding more liquid.
From a pricing perspective, vanadium faces similar challenges to lithium. A few large players in China comprise the majority of production and are comfortable with relative opacity. Under these conditions, it's unlikely that these grid-scale batteries will see large scale adoption outside of China.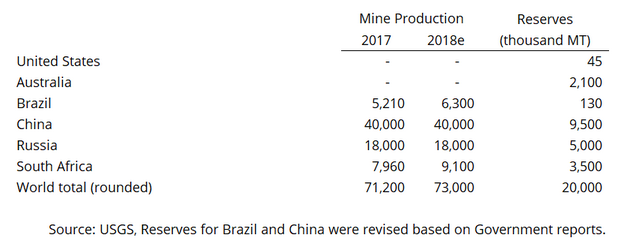 Blockchain
Digital Asset Partners With Amazon AWS Aurora on Smart Contract Language Interoperability
Digital Asset, a software firm offering open-source smart contract software language, Digital Asset Modeling Language (DAML), is integrating into AWS so that anyone who wants to use Digital Asset's services on AWS Aurora is able to.
The DAML language was designed for the needs of financial institutions in mind, and thus "is optimized for usage in a private execution environment rather than in an open execution environment, in which it would be processed by all of the nodes in a network" according to the Digital Asset introduction paper.
We'll be following this integration.
Interested in advertising with us?
Please contact us at advertising@panxchange.com
Have any newsworthy content you'd like to share or a super awesome ICO you want to pump?
Please send to  jyanus@panxchange.com
-Editor in Chief, Josh Yanus