Year of the Pig; Update!
[October 9th, 2019]
Hey All,
We're ¾ of the way through the year of the pig and have exciting news: The McRib is back! Who won't be rushing straight to their nearest McDonald's to grab at least 10 of these restructured meat products leftover from pigs bred in industrial facilities? Plus one sandwich has almost half your daily sodium max recommended by the American Heart Association. Yum!
Boy it's been a busy year for hog news. With massive pig die-offs in some places, herds exploding in other, volatile prices throughout the world, and the rise of alternative meat sources, we'll be sad when the year of the pig ends. Thankfully, next in the cycle is the year of the rat. Our food stories are gonna be lit.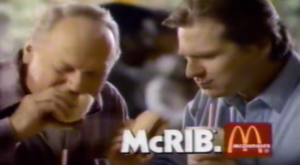 Hog futures breaking out of the lower range
Lean hog futures prices on the CME broke out of their slump from August through early September and are posed to break for new highs in the December contract. After a major spike early in the year for the beginning from African Swine Fever reports intensified, futures prices eased from huge herd estimates in the U.S.
If China pushes a partial deal rumored over the past few weeks to open the market to more pork imports, U.S. prices could see a serious, sustained rally.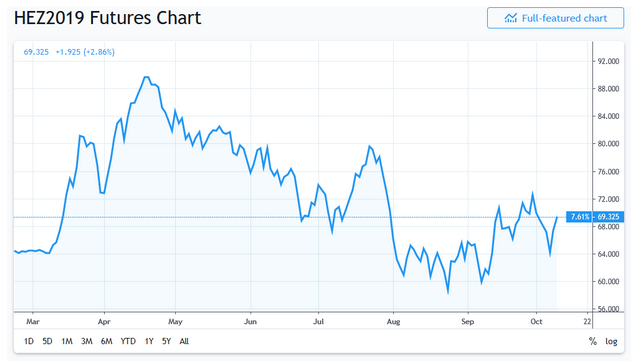 Chart from Trading View, Data from CME
African Swine Fever
African Swine Fever continues to spread and decimate herds across Asia. Pork prices in China are up around 50% year on year as of September according to government statistics, and the government has broken into the strategic pork reserves. In their most recent ASF Situation Update, FAO reports that outbreaks are now in The Philippines and Timor-Lesta. This situation is likely to cause serious, long term upheaval.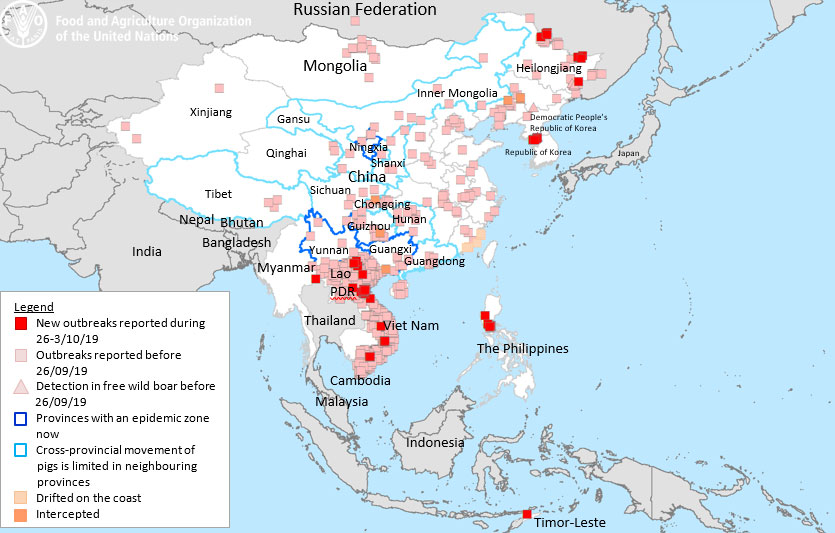 Polar Bear Sized Pigs
One solution hog farmers in China are exploring is just breeding larger pigs! A hog farmer in Guangxi province is breeding pigs that weigh in at around the size of a polar bear at over 500 kilograms. While larger pigs mean more pork and more income, one of the challenges farmers have with these massive pigs is that due to health complications they often die, which is arguably not the ideal state for a pig.
But with pigs this large, there will undoubtedly be plenty of leftover meat and innards to reprocess and form into thousands of McRibs.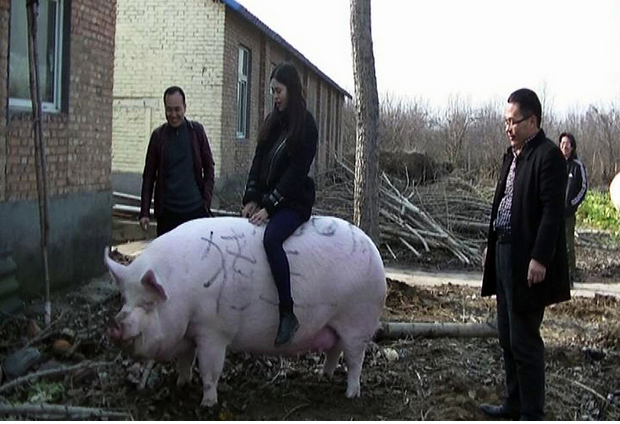 How many McRibs could this pig make???  Source: Imaginechina via AP Images
Plant Based Pork
Another solution to the pork crisis is to stop eating it all together. Alternative meat burgers get all the attention in the U.S., but in Asia where pork is king, alternative, plant-based pork is getting a major boost, especially with the recent price spike following ASF. Names like Omnipork, Right Treat, and Phuture Foods are aiming to capitalize on growing awareness of the negative effects of meat consumption on the environment in Hong Kong and Singapore, with the ultimate market being mainland China.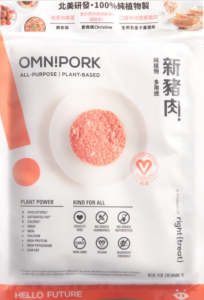 Protein from Microbes
Most practitioners of a plant-based diet already know the massive protein and vitamin B12 benefits of nutritional yeast, and now companies are aiming to dive further into the microbiome sphere for protein creation.
Last week Food Navigator reported on a number of firms working on the microbiome level to create complete proteins. Motif Foodworks, who recently raised $27.5 million, decodes food ingredients to the basic building blocks, then uses microbes to create alternative processes to rebuild the ingredients animal-free. Sustainable Bioproducts uses an extremophile microbe discovered in Yellowstone National Park and a fermentation process to create a complete amino acid chain. And Air Protein is combining atmospheric carbon dioxide with hydrogen and nitrogen to feed single cell organisms known as hydrogenotrophs to create a protein with the same nutritional profile to animal protein.
Hydrogenotrophic patty has a great ring to it!
Porkchain!
We're a bit behind on this announcement, but it's a big one: Porkchain!
The National Pork Board partnered with with Ripe Technology to start an ecosystem that, "will allow pork producers to monitor, evaluate and continuously improve their sustainability practices based on the We CareSM framework – six defined ethical principles guiding the U.S. pork industry."
Hopefully they get cameras set up so you can watch the bacon you'll eat in a few months.
Interested in advertising with us?
Please contact us at advertising@panxchange.com