Market Exits, New Technologies, and Brexit
[November 5th, 2020]
Hi all,
Hi all, the US elections are still underway, but global commodity markets are looking forward. Although one of the world's biggest pork firms goes bust, the solar industry has seen a ray of light despite these challenging times. Companies like Cargill are reevaluating their emissions and taking proactive steps to change, while the European Union enlist farmers to fight climate change through various economic incentives. Investors are turning their eye towards environmental, social, and governmental investments such as vertical farming. Finally, Brexit could impact the European Union and countries they trade with, including Kenya and Ghana. 
How Does One Of The World's Biggest Pork Firms Go Bust During A Boom?
American pork producer Maxwell Foods suddenly announced this year that it would be leaving the industry by the end of next year after a failed agreement leading to a lawsuit with competitor Smithfield's, a company owned by WH Group of China.
The Guardian reported Maxwell Foods produced over 1.1 million pigs for slaughter in 2019, making them one of the world's largest producers. In comparison, Smithfield produced $16 billion from 1.23 million pigs in 2019. A lawsuit in 1994 stated that the two companies had come into an agreement for Smithfield's to buy all of Maxwell's pork from the Carolinas and Virginia. This agreement had made the Chinese-owned group a pivotal customer to Maxwell; however,  as Smithfield's built its integrated business over the years, they gained a more significant market share. In the end, Smithfield violated a clause in the agreement, the "most favored nation," as they offered other trading partners better prices than Maxwell. 
In April 2020, Maxwell announced that Smithfield had stopped buying the full amounts of pigs for slaughter from them and that going forward, it would only buy half. According to Maxwell, this has been a deliberate maneuver to reduce their participation in the hog industry. Specifically, by harming its competitiveness, despite Smithfield's refuting these claims, they called the lawsuit "regrettable." Additionally, they claimed that the reported events were fundamental "commodity market share" issues in the livestock markets as they felt the negative impact.
Pandemic Is Ray Of Light For Solar Industry
As a result of the pandemic, a lot more electricity usage has shifted from office buildings to homes. Working from home has been recommended to those that can and has become more accepted by employers. For the solar industry, the beginning of the pandemic impacted door-to-door sales and solar panels installation.  This downturn was only temporary as the solar companies turned their focus and energy on digitizing their businesses.
According to The Wall Street Journal, solar electricity sales rose 5.8% from 2019 to 2020 for residential properties according to data from the US Energy Information Administration. Like Sunrun and Sunnova Energy International, solar companies have also benefited from low interest rates, which would appeal to capital intensive businesses required to raise funds for their expansions.
The stock market has also seen higher valuation for Sunrun and Sunnova Energy International with 135% and 296% gains, respectively, and seeing Sunrun surpass Tesla's solar business in value after it acquired Vivint Solar.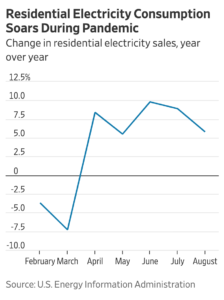 Vertical Farming: Hope Or Hype?
‌Supporters of vertical farming believe that it is a new solution to global food supply chains. Modern technology has helped the sector receive large investments, with $1.8 billion worth of investments since 2014, and it lends even more credibility to the traditional agriculture practices.
The Financial Times looks at whether this new concept, where crops are grown indoors with artificial lighting and without soil, is just hype or hope for those looking for real solutions in the food supply chain. Recent headlines include the construction of a large indoor farm in Europe. Additionally, Abu Dhabi is building a large vertical indoor farm in the desert, and investments into start-ups such as Plenty (also backed by Softbank) has created a more mainstream discussion on the future of this new form of farming. 
The business of vertical farms is capital intensive. Costs are high to maintain as running a vertical farm includes highly skilled personnel, high electricity costs, ventilation, and specialized equipment while maintaining affordable food to consumers. The Danish start-up Nordic Harvest, which teamed up with Taiwan's YesHealth Group to build Europe's largest vertical farm in Copenhagen, has stated that it will start being profitable in 2021. Click here to learn more about what exactly is container farming.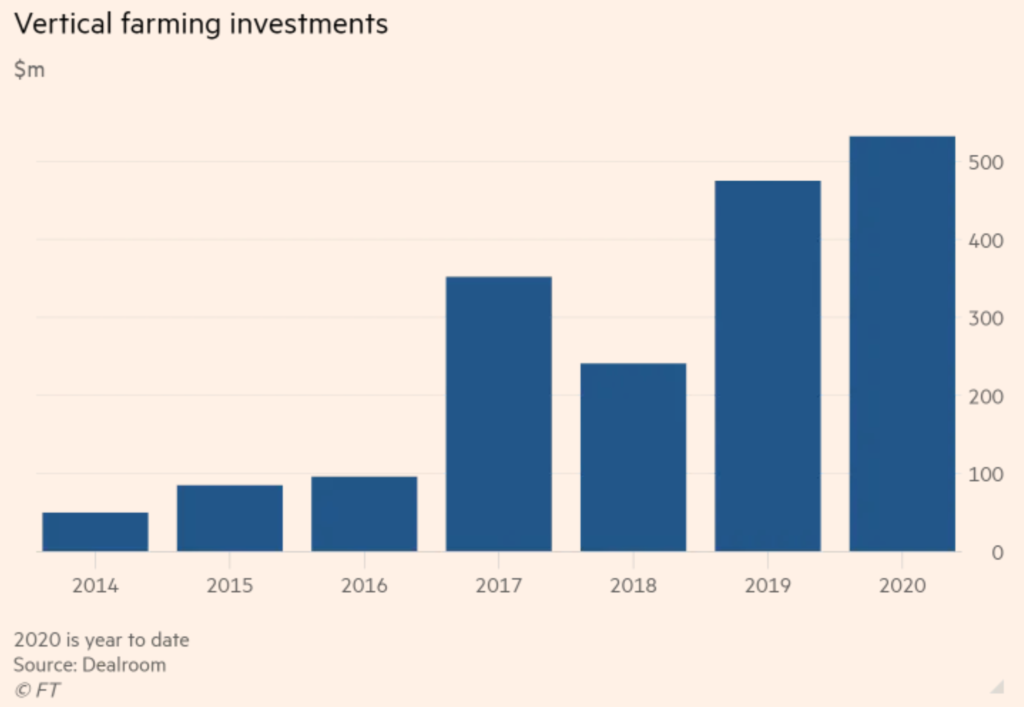 Cargill To Add Giant Sails To Cargo Ships To Curb Emissions
The world's largest agricultural commodities trader Cargill Inc. has up to 600 vessels under charter at any given time. Cargill announced that they would take the industry's lead to reduce fuel and gas emissions by using large wind sails on some vessels. This decision will fall in line with the trading industry's commitment to reduce greenhouse gas emissions by 50% in 2050.
Bloomberg News reported that international shipping covers over 90% of global trade, resulting in approximately 3% of human-made carbon dioxide emissions. The largest traders discuss these several concepts amongst themselves, but for Cargill, the wind sails seem to be their preferred option for now. They plan initially to install these on their mid-sized tanker vessels that carry vegetable oils, biofuels, and ethanol; if successful, Cargill sees the same opportunity for larger vessels carrying grains and oilseeds to have installed these wind sails. 
This plan will not be Cargill's first attempt at reducing fuel use on their vessels. In 2011 the company tried to install large wind kits onto their ships, but this turned out to be unsuccessful and later aborted.
EU Wields $460 Billion of Aid to Enlist Farmers in Climate Fight
The European Union is setting out more requirements for farmers in the bloc to adhere to environmental and climate-friendly practices to continue receiving state government subsidies.
According to Bloomberg News, European ministers would like for farmers to be part of the "Green Deal," aiming to eliminate net-carbon emissions by 2050. A December meeting will try to bring in more ambitious plans to bring the target closer to 2030 to 55% from 1990 with other sectors from transport, mainly stricter emissions caps for cars and in construction new energy efficiency standards for new buildings.
Over the next seven years, EU farmers will receive subsidies of up to €390 billion and €291 billion as direct payments to farmers across the bloc.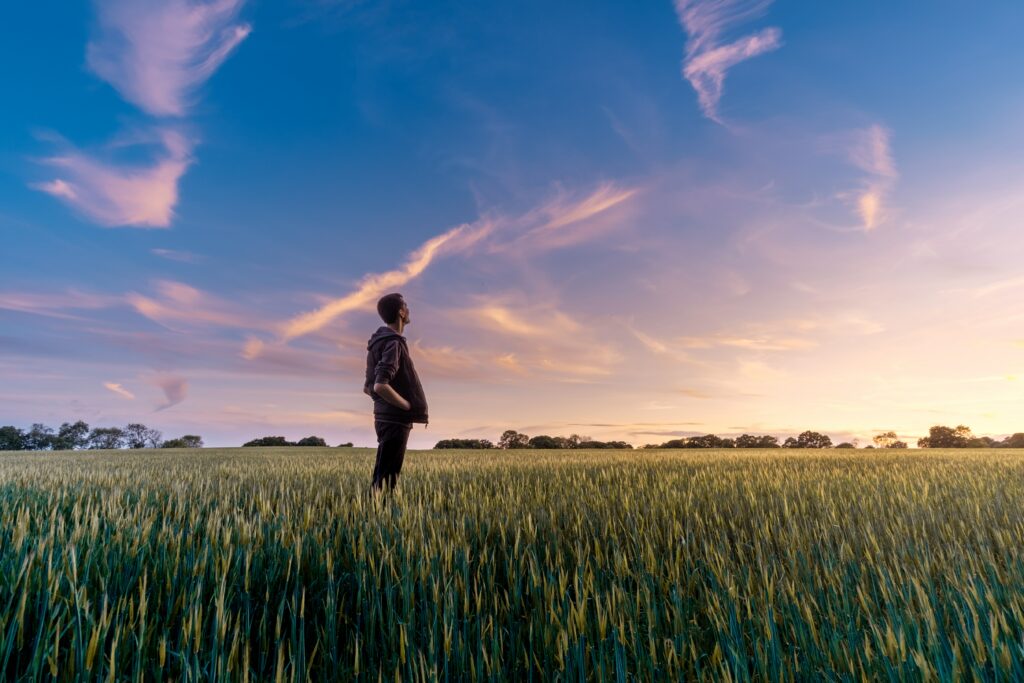 Labour Urges UK Trade Secretary To End Delays Over Kenya And Ghana Deals
As the United Kingdom's exit from the European Union draws closer, some bilateral trade agreements with key partner nations are incomplete. However, this situation may leave massive tariffs imposed on importers.
According to The Guardian, the opposition party Labour has been urging the International Trade minister of the UK, Liz Truss, to end delays for deals with Kenya and Ghana. The impact will have on trade from the African countries and potential import duty on products with values of up to £2.5 billion just from these two countries who are critical growers of tea, bananas, flowers, and cocoa.
The UK will formally leave the European Union on January 1st, 2021. Current negotiations are ongoing with the EU and UK for a trade agreement and the UK with other countries, including Australia, South Africa, and Japan.
Interested in advertising with us?
Please contact us at advertising@panxchange.com
Do you have any news that you would like to share?
Please send to  rluwero@panxchange.com or elopez@panxchange.com
-Editors, Ronnie Luwero and Elena Lopez Del Carril