Gas Discovery, Record Prices, and China's Grain Challenges
[August 27th, 2020]
Hi all,
In this report, a significant find in the Black Sea could lead to an economic boost for Turkey. Home improvement projects continue to increase lumber prices in the US, reaching record highs for the industry. The Chinese could face food security challenges due to domestic shortages. Argentina's wheat crop under pressure as they battle record droughts and the US suffered significant crop losses from a midwest Derecho. Empty stadiums and airplanes have had a drastic effect on nut prices, plunging as pandemic fears hit sellers. Finally, large European banks fall out of love with commodity traders.
Turkey Hails Big Gas Discovery In The Black Sea
Turkey has made an enormous gas discovery that is being hailed as transformational by the Ankara government. The country has been dependent on energy supplies from producers, including Russia, Iran, Qatar, the United States, and Azerbaijan, with energy bills totaling $41 billion in 2019.
The Financial Times reported that the 320 billion cubic meters of gas discovered in the Black Sea is the government's largest find in the country's history and has targeted the start of production for 2023. Natural gas production will likely be a significant boost to the economy, which has been struggling and made worse with the dependence on energy imports over the last decade. 
Industry analysts have received the news with some caution, pointing out that this particular discovery is an estimate and that it would need to be proved commercially viable.
Reuters reported that even as a natural gas producer, Turkey might decide to cooperate with Russia and Iran on drilling and to lay the infrastructure that the Black Sea lacks, according to the country's Finance Minister Berat Albayrak.
Lumber Prices Reach Record Highs
American lumber prices have seen a sharp rise during the pandemic as a surge in housing. Building projects saw an increase in demand reaching record levels not seen since 2018 breaking the 651 USD Per Thousand Board Feet level by reaching 828 USD Per Thousand Board Feet.
According to The Financial Times, part of the demand came from renovations during the lockdown period that saw many people decide to use the time at home to undertake several 'Do It Yourself' tasks. Another essential contribution was the low-interest rates that fast-tracked a recovery in housing demand. The demand has also seen European, Russian, and even Canadian lumber being sold in the United States to take advantage of the price increase.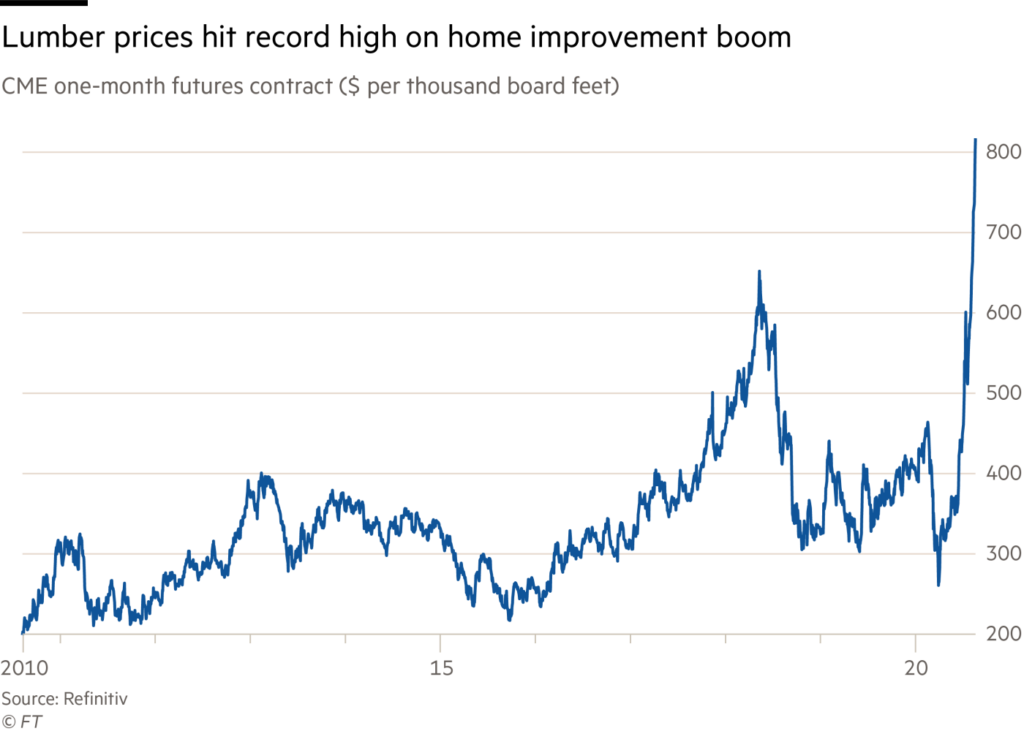 China's Food Security: Country Faces Grain Supply Gap
China's food security challenges will continue well into the next decade as the country faces massive domestic shortages of up to 130 million tons of grain by 2025, with imports continuing to be a vital part of the supply chain for the country's 1.4 billion population.
According to the South China Morning Post, "China's three staple grains, wheat, rice, and corn, are expected to have lower domestic supply falling short of the 25 million tons demand by the end of 2025." Meaning that there will be a rising dependence on imports. Specifically, from October 2020 to September 2021, a corn supply gap is expected of 16 million tons.
The expected shortage of corn has seen a price increase that has forced animal feed producers to look at alternatives such as wheat, which will also increase the price of domestic wheat. 
Farmers have been encouraged by the rising prices, and so many decided to hold onto their stocks for higher national reserve prices. The Chinese National Wheat Reserves bought 42 million tons from farmers this year compared to 52 million tons in 2019 despite increased production.
Devastating Weather Leaves Crop Under Pressure
Unfavorable weather has left several Argentine regions with the worst experienced droughts in decades, putting immense pressure on Argentina's wheat crop production. 
The wheat-growing areas were estimated to reach 7 million hectares for its crop season from December to November. Still, reports from Merco Press and forecasts from the Rosario Stock Exchange have estimated 6.5 million hectares, which cuts total wheat production estimates for the 2020-21 season from 22 million metric tons to 18.9 million metric tons. 
On August 10th, the US also suffered significant crop losses from a Midwest Derecho that brought hurricane-like winds and forceful rain across multiple states. According to the Washington Post, "up to 43 percent of the state's corn and soybean crop has suffered damage from the storms, a severe blow to a $10 billion industry".
Nut Prices Plunge As Pandemic Fears Hit Sellers
The nuts market has seen a fall in prices due to the pandemic and its usual commercial buyers, including the airline industry, the hotels, and restaurants forced to close or work with new health guidelines. 
This drastic fall in price has taken a huge knock on the supply chain, which has seen suppliers stuck with large volumes of raw nuts in storage and new alternative ways of selling processed nuts such as online marketplaces, as reported by The Financial Times.
Benchmark US almond prices have taken a huge plunge, which has seen the specialty nuts lose 40% of its value, its lowest in a decade. Specialty nuts include almonds, cashew nuts, hazelnuts, macadamia nuts, pecan nuts, pistachio nuts, and walnuts. More specifically, walnuts have lost 18% of their value, and cashew nuts have lost 10%.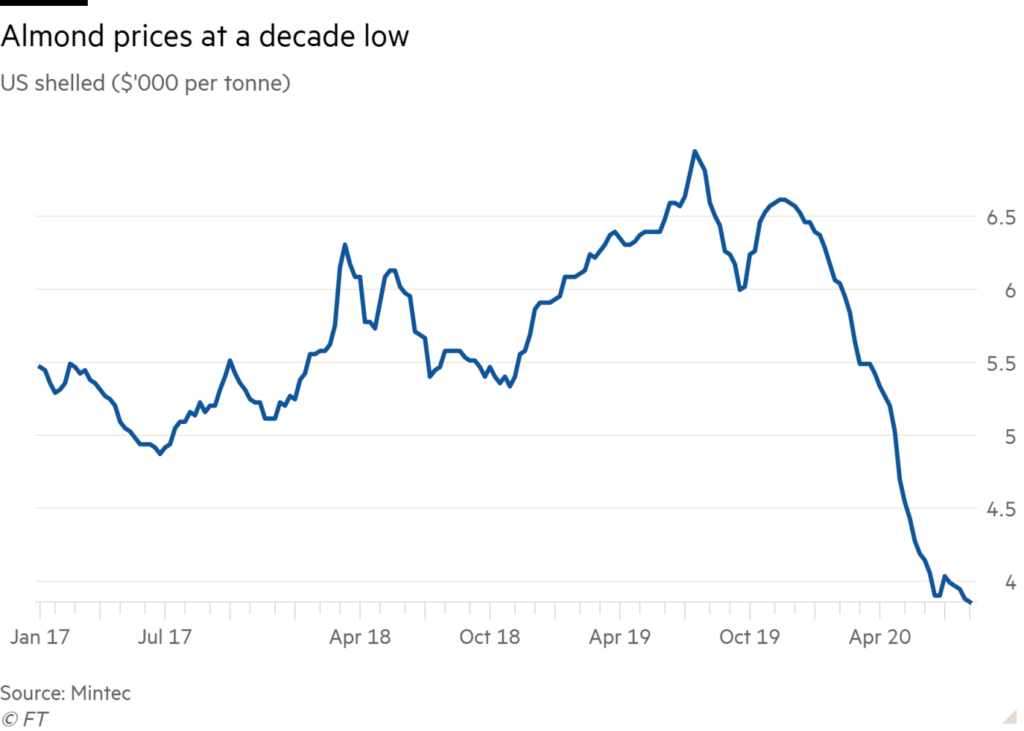 Europe's Banks Fall Out of Love With Commodity Traders
Traditional commodities trading houses will no longer have the usual financial support from key European banks. More have either closed their commodities trading desks or are reviewing their positions in the market.
Bloomberg News looked at how ABN Amro Bank confirmed that they would be closing their commodity trade finance unit. BNP Paribas is reviewing its specialized trade finance unit, and now Dutch group Rabobank, which traditionally finances agricultural commodities traders, is also reviewing its trade finance business.
These banks have been the backbone of the commodities trading industry, which has grown to new levels due to the demand in national resources from metals, oil, and food commodities. When Marc Rich famously needed financial backing to trade Iranian oil, he looked no further than the French bank BNP Paribas.
When Vitol traders needed cash to take over the management group, they went to ABN Amro for the financial backing. These two examples created two of the largest groups in the industry, namely, Glencore International, formally Marc Rich + Co. and the Vitol Group, the world's largest independent oil trading company.
Trading companies should now expect higher fees from those lenders that have chosen to remain in the market. Still, many firms wish to secure non-traditional sources of finance, such as issuing bonds, selling equity, forming new partnerships, borrowing from larger traders, or even looking at traditional barter trading.
Interested in advertising with us?
Please contact us at advertising@panxchange.com
Do you have any news that you would like to share?
Please send to  rluwero@panxchange.com or elopez@panxchange.com
-Editors, Ronnie Luwero and Elena Lopez Del Carril