Food Challenges, Imports, and Exports
[August 12th, 2020]
Hi all,
The world came to a halt last week to watch the Lebanese port in Beirut crumble in a matter of seconds, leaving the country struggling with food scarcity. At the same time, United States consumers are reporting groceries becoming increasingly expensive. This report will also discuss China soybean imports rising and Uganda's top coffee exporters. A COVID-19 outbreak at an Argentine grain terminal and processing plant affected operations. Finally, BNP Paribas pulls back from financing commodity traders.
Lebanon Navigates Food Challenges
After last week's blast in Lebanon's capital city of Beirut, the country's main port for grain stockpile got destroyed, leaving an already fragile economic environment coupled with the current coronavirus pandemic even more unstable. This week, after protests and demands for change, the nation's government resigned. This change puts more pressure on authorities to work with international partners to meet the population's immediate needs.
The 120,000 metric ton capacity grain silo and the port, which is the main entry point for food supplies, were destroyed in the explosion. The main avenue of receiving staples in the short term will be through eight smaller private millers, as reported by Reuters.
The country's population of six million has a consumption rate of 35,000 to 40,000 metric tons of grain per month, but only 15,000 metric tons got stored before the port explosion.  For food security planning, the country would require at least three months' worth of supply, equalling over 100,000 metric tons.  
The Associated Press reported the international efforts to assist with the situation, most notably the United Nations' World Food Programme. The UN agency has arranged a shipment of 175,000 metric tons of wheat flour with an estimated arrival time of two weeks, allowing at least 20 days of bread supply. The World Food Programme also plans to ship 130,000 metric tons of milling wheat with the first 30,000 metric tons expected to cover an immediate requirement.
Everything At The Grocery Store Is Getting More Expensive
Food prices in the United States have seen a sharp increase during the coronavirus pandemic. Supply chain disruptions and personnel at production sites are the leading attributed causes, even with the marketplace's actual amount of food not seeing any shortages.
According to CNN Business, the Bureau of Economic Analysis, which tracks personal consumption expenditures, has reported that prices for staples have increased. For example, this includes increased meat and poultry prices by 11%, meat and veal by 20%, pork by 8.5%, eggs by 10%, and cereals and fresh vegetables by 4%.
Millions of Americans stayed home for safety and health concerns. As a result, as seen in the USDA graph above, the demand at grocery stores for food at home has increased, but food consumption at restaurants has declined with fewer customer visits.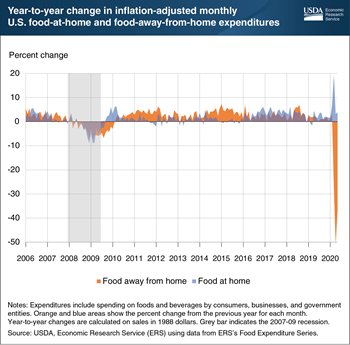 China Soybean Imports Rise With Brazilian Shipments
According to data from the country's General Administration of Customs, in July 2019, China only had 8.63 million metric tons imported. In comparison, in July 2020, China has increased its soybean purchase to 10.09 million metric tons. 
Due to the depreciation of the Brazilian Real, Reuters reported that China's demand for soybeans increased as Brazil's stockpiles offered favorable rates. China saw imports of 55.14 million metric tons in the first seven months of 2020, a 17.7% increase compared to the same period in 2019. Expect to see more large shipments as the demand from local traders, crushers, and animal feed producers remain.
The country saw a big push in the piggery production after the deadly 2018 discovered African swine flu that wiped out large numbers of livestock.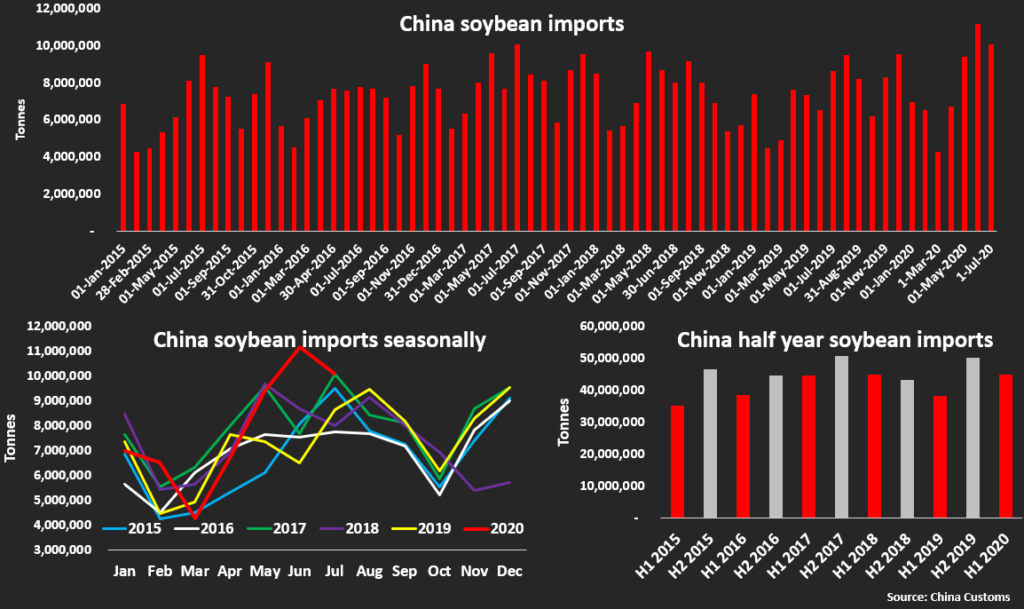 Uganda's Top Coffee Exporters Revealed
The Uganda Coffee Development Authority (UCDA) has released data showing companies dominating the export of Ugandan coffee after the country earned USD 496.15 million from June 2019 to June 2020. This earning is compared to USD 415.13 million in June 2018 to June 2019, which equals 5.1 million bags compared to 4.16 million bags (all 60 kg).
According to The Monitor, in June, Kyagalanyi Coffee (part of the ED&F Man Group) were the largest exporters with 77,930 bags, 37,370 of Robusta, and 40,560 of Arabica, shipped. Specifically, in June, the top three countries that imported Ugandan coffee were Italy, Sudan, and Germany. Ten companies dominate Uganda's 80% of the export market, including Olam Uganda, Ideal Quality Commodities, Ugacof (part of the Sucafina Group), Kawacom (part of Ecom AgroIndustrial Corp), Louis Dreyfus Company, Ibero, Touton Uganda, Kampala Domestic Store, and Besmark Coffee Company.
 In June, Olam International was the largest buyer of Ugandan coffee by purchasing 56,153 bags, followed by Atlas Heel Import & Export with 46,900 bags and Volcafe with 39,385 bags. Other large buyers included Sucafina, Bernhard Rothfos, Ecom AgroIndustrial, Cofftea, Aldwami Co., and Bercher Coffee Consulting.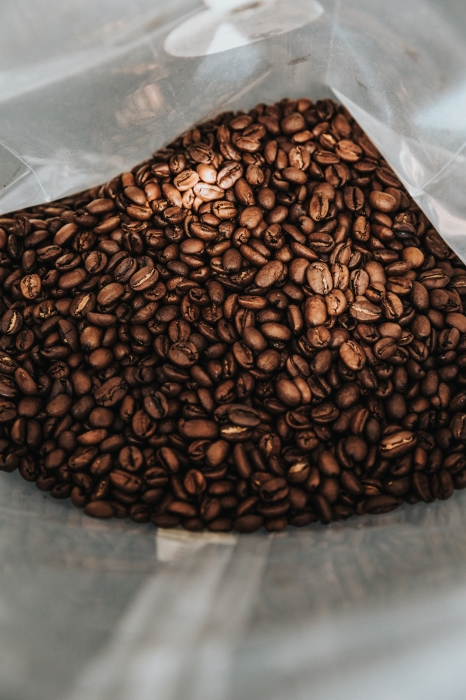 Covid-19 In Argentine Grains Terminals And Processing Plants Affecting Operations
Argentina has reported its first cases of COVID-19 at the port terminals responsible for large cargoes that see soybean meal and soybean oil ferried to different global destinations. This case will inevitably bring even more disruption to the trade after months of lockdowns and restrictions on the movement of people and cargo.
According to Merco Press, large international traders, including COFCO International, Bunge, and Vicentin SAIC, have all reported cases. As a result, production at crushing plants is on hold, and vegetable oil bottling operations temporarily suspend and redirect cargo collection.
BNP Paribas Pulls Back From Financing Commodity Traders
Global banking giant BNP Paribas has decided to close its trade financing operations to Europe, the Middle East, and Africa after a series of losses, including Coex Coffee in the United States, GP Global Group, and Phoenix Commodities in the Middle East.
The Financial Times reported that the Paris based bank was once one of the most prominent players in the international commodities trade, supporting various groups and offering specialized financing instruments to the oil trade. The bank is also looking at closing its trade finance unit in Geneva, with reports that it has struggled to perform to expectation.
This struggle comes when the bank is pushing towards being an investment bank powerhouse of Europe after underwriting loans to clients during the pandemic and extending its balance sheet by 500 billion Euros.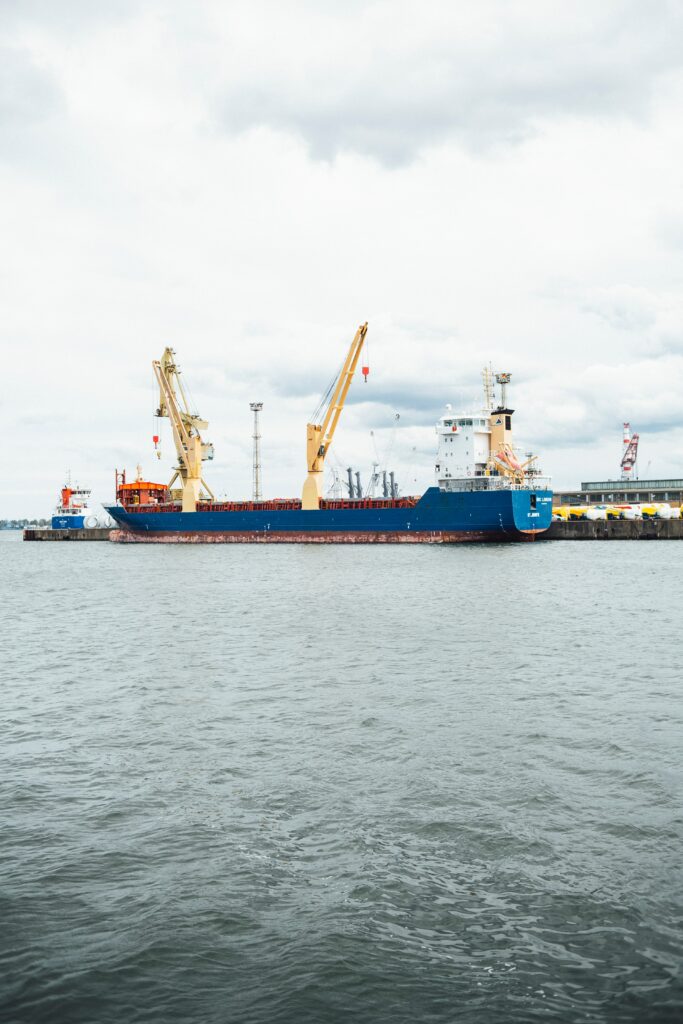 Interested in advertising with us?
Please contact us at advertising@panxchange.com
Do you have any news that you would like to share?
Please send to  rluwero@panxchange.com or elopez@panxchange.com
-Editors, Ronnie Luwero and Elena Lopez Del Carril