Destination Africa
[January 31st, 2020]
Hi all,
This month, we are looking at Africa as a destination in the agri commodities markets. The region is well known for its ever changing demographics and is often viewed by large exporting nations as the last frontier for large underdeveloped market places.
Palm Oil Imports Into Africa
Palm oil remains the preferred option on the African continent for cooking, as soybean oil, sunflower oil and olive oil are seen as more expensive alternatives.
The palm oil market size in Africa is estimated at $8.2B in 2018, an increase of 3.7% against the previous year.
In value terms, the largest palm oil markets in Africa were Nigeria ($861m), Egypt ($626m), and Tanzania ($559m), with a combined 25% share of the market. Ethiopia is spending $500m per year on imports of palm oil, against a backdrop of foreign exchange shortages. While 90% of the palm oil in Ethiopia is imported, the region's new refinery could prove to be highly advantageous.
In 2018, the highest levels of palm oil per capita consumption was registered in Djibouti (431 kg per person), followed by Togo (40 kg per person), Ghana (18 kg per person) and Kenya (14 kg per person), while the world average per capita consumption of palm oil was estimated at 7.09 kg per person.
The chart below indicates the price for Malaysian origin palm oil CIF NW Europe
Rwanda Set To Open New Powdered Milk Factory
A new powdered milk factory set to go under construction in Rwanda is expected to dramatically boost profit for the country's livestock sub-sector.
According to information from the Ministry of Trade and Industry, the installed capacity of that factory will allow it to process 252,000 litres per day. Because dairy powder is nonperishable, its cost of transportation and storage is significantly lower than its liquid counterpart, making it valuable to those living in developing countries.
The region's consumption is much lower compared with the 200 litres per annum recommended by the World Health Organisation. Meanwhile, in the European Union, finding new markets for milk and milk products is a matter of urgency due to the surplus of dairy products produced.
According to Eurostat Data, the EU 28 block in 2018 produced over 150,000,000 metric tons of milk products which included cheese, liquid milk, whole milk powder, skimmed milk powder and condensed milk while exports were at just over 6,000,000 metric tons including manufactured products such as cream, yoghurt, butter, infant milk formula along with the traditional products.
Egypt Wheat Imports
Egypt is one of the largest importers of grain in the North African/Middle East Region with the General Authority For Supply Commodities (GASC), the state controlled buyer of raw materials, regularly issuing tenders for its requirements.
This month GASC has issued an international tender to buy wheat at $231.77 a ton FOB for wheat sourced from Ukraine. The tender sought wheat for shipment between Feb. 18-29.
In its most recent international wheat tender on Dec. 10, GASC bought 355,000 ton of Russian, Romanian, Ukrainian and French wheat for Feb. 5-15 shipment.
At PanXchange, we take a different view on countries like Egypt that are still using the tender/RFP process that has been used since the invention of the telex. When countries hold tenders for commodities at fixed prices, they are guaranteeing that they're paying no less than 15%-20% surcharge to the world market.
This is because the trade houses that are participating in those tenders need to protect themselves from price risk while their offers are under consideration.
On the contrary, if countries like Egypt implemented a system like PanXchange, they would risk companies withdrawing offers if the prices moved too much during the consideration period, but they would ensure that the transparency and the live nature of the process would guarantee significantly lower purchasing prices.
Ethiopia Will Need To Continue Wheat Imports
While Ethiopia's wheat output jumped about 70% this decade, it has failed to keep pace with rising demand. In order to fill this gap, wheat is purchased primarily from the black sea region.
Faced with severe food crises, the nation spends as much as $700 million a year on grain imports, putting a strain on foreign-exchange supplies limited by large current-account deficits and debt.
Though Ethiopia ranks outside the top 20 wheat importers, it can hold tenders to purchase sizable amounts, and recently sought a total of 755,000 tons.
Source: Bloomberg Markets
Nigeria Rice Imports
Despite the Nigerian government's measures designed to spur production, farmers get far less from their land than other major rice growers and the West African country is only marginally less reliant on imports.
That's a problem for a government that wants to grow all of its own food and boost the country's agriculture, a sector that accounts for nearly a third of gross domestic product in Africa's biggest economy. When President Muhammad Buhari came to power in 2015, he pledged to help the nation become self-sufficient in rice – once a luxury but now a staple for millions of Nigerians.
In 2015, Nigeria's central bank banned the use of its foreign exchange to pay for rice imports and has backed loans of at least 40 billion naira ($130 million) to help small-holders boost output. It also banned rice imports across land borders and kept hefty 70% tariffs on imports coming through ports.
The U.S. Department of Agriculture, meanwhile, expects Nigeria's 2020 rice imports to rise 9% to 2.4 million tonnes, in part due to the high cost of unprocessed Nigerian paddy rice and elevated operating costs at mills.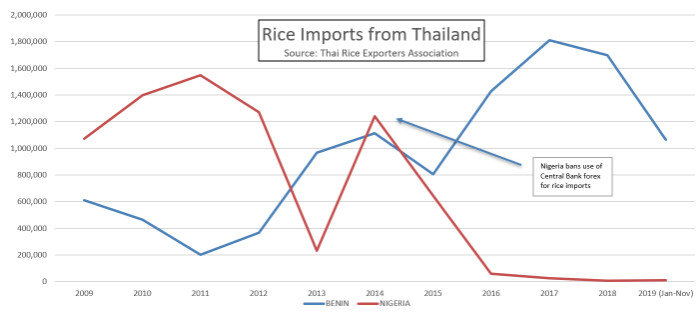 Zimbabwe To Import 100,000 MT Of Maize Grain
Zimbabwe has been hit by a critical shortage of 'miele meal', a relatively affordable flour made from maize mainly used to make porridge in Southern African countries. This development has led to some retail outlets rationing the commodity. The shortage of supply has opened up opportunities for unscrupulous, informal traders to take advantage of the scarcity of 'mielie meal' by cornering supply and selling the commodity on the black market at exorbitant prices.
As a result, the government made a decision to allow millers and other players to bring in maize into the country using their free funds as of December 2019.
Soon after this legislation passed, The Grain Millers Association of Zimbabwe (GMAZ) acquired 100,000 tons of maize from South Africa and Brazil with the first consignment of the staple starting to trickle into the country in the next few weeks.
Interested in advertising with us?
Please contact us at advertising@panxchange.com
Do you have any news that you would like to share?
Please send to  rluwero@panxchange.com
-Editor in Chief, Ronnie Luwero