COVID-19 and The Global Commodities Supply Chain
[April 6th, 2020]
Hi all,
COVID-19 has taken the world by surprise and affected the global supply chain with the virus that originated in Wuhan Province, China. Now, as we have seen cases rise in most parts of the world, the supply of raw materials and food commodities has become strained in a way unknown to stakeholders since the second World War. From smaller suppliers of basic staple foods to the large commodities conglomerates, certainly, COVID-19 has challenged the way of life. As a result, national governments have intervened with financial aid packages and support for businesses even more than the financial crisis of 2008.
Lockdown Confusion At Indian Ports
According to Bloomberg, after the Indian government implemented a three-week lockdown on individuals they also put in place various halts on major ports as they sought out opportunities to confine the spread of COVID-19. However, without clear information, many traders have been scrambling for more clarity on whether or not their goods will continue to trade throughout this world-wide pause.
Therefore, India's Ministry of Shipping advised ports that due to the underlying circumstances, they may be able to "invoke force majeure" as many are unable to meet "contractual commitments for reasons beyond their control." Not only does this affect Indian operations, but as one of the world's largest ports, this will undoubtedly create a trickle effect around the world for oil and many other hot commodities.
Countries Hoard Food As Food Security Fears Rise
Worldwide restraints on movements have become the new normal as stay-at-home orders are placed on individuals all around the world. While families plan out their groceries for the weeks to come, countries have reacted to this newfound demand by halting exports on food supplies for their domestic consumption instead.
For example, according to Bloomberg, Kazakhstan, Vietnam, and Serbia have all done their respected bans on exports such as wheat flour, rice, and sunflower oil. Meanwhile, other countries, like Russia, are reassessing weekly as information continues to change.
Of course, there are still a lot of uncertainties and anxiety regarding how and what COVID-19 will change in our societies for the foreseeable future. However, as Bloomberg states, "the specter of more trade restrictions is stirring memories of how protectionism can often end up causing more harm than good."
EU Farmers Lobby To Secure Food Production
According to Euractiv, the COPA-COGECA, an organization of EU farmers, has demanded measures to ensure the functioning of the agricultural sector in the EU as a result of COVID-19 uncertainties.
The organization of farmers in a letter to the European Commission called for measures to ensure smooth cash flow and continued open borders for agricultural products. Over the last couple of weeks, many EU countries have implemented new travel restrictions from one member state to another, thus, EU farmers wanted to ensure the continuation of open boards for the food and forestry industries. Therefore, COPA-COGECA "called for joint action across the EU value chain to secure stable food supplies."
Additionally, the applications for the Common Agricultural Policy (CAP) payments are traditionally due May 15th, but under the current COVID-19 circumstances, the European Commission agreed to delay the applications until June 15th to lessen the restraints on EU farmers.
COVID-19 Effects In China and Vietnam
In 2020, China's economic growth is expected to hit 2.4% which is much lower than the forecasted 5.7% from the end of 2019. According to Successful Farmers, soybeans are a key product for China's animal feed industry; however, Brazil and other Latin American countries are expected to see a peak in COVID-19 cases in April and May. This, in turn, will affect Brazil's key export period of soybeans to China.
Illustrated below by the CBP Netherlands Bureau for Economic Policy Analysis, China has had a monthly change in exports of -11.1% on a volume basis.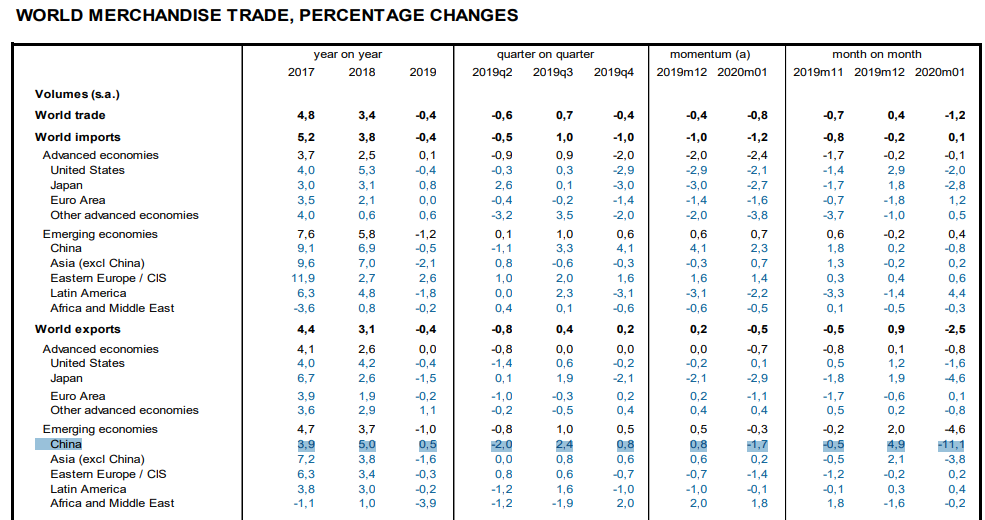 Additionally, the CBP Netherlands report demonstrated below that the industrial production has taken a significant fall from January 2020.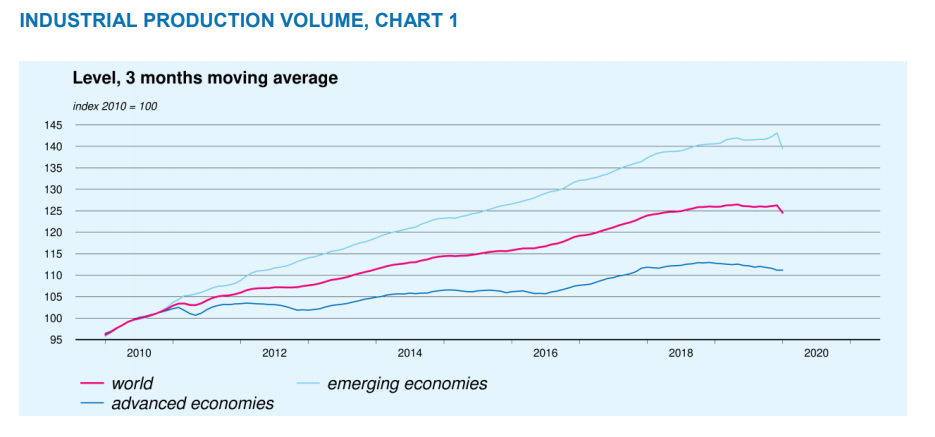 According to Reuters, Vietnam is one of the world's largest exporters after India and Thailand and its key destinations are the Philippines, China and Ivory Coast. The average export prices for Vietnam rice in January reached $478 per ton. However, Vietnam's rice exports have been suspended by the country's authorities to manage food security challenges due to the COVID-19 pandemic.
Global Impacts From COVID-19
Interested in advertising with us?
Please contact us at advertising@panxchange.com
Do you have any news that you would like to share?
Please send to  rluwero@panxchange.com or elopez@panxchange.com
-Editors, Ronnie Luwero and Elena Lopez Del Carril