China Round Up
[November 14th, 2019]
Hey All,
We are closing in on the year and we are bringing you a roundup of China's trades and alternative routes for their raw materials demand. With the Trump administration set to hold another round of trade talks with the Chinese government, a long-lasting agreement by the G2 nations is required to avoid a global economic downturn. With Donald Trump preparing for the US presidential election campaigns and the Chinese pushing ahead forging trading partnerships with agricultural countries, all eyes will be on these two superpowers in the coming months.
Alternative Trade Routes For China
Canadian Grain Commission data for September shows canola exports to the United Arab Emirates jumped 533% from last year to 93,100 tons. Canola from Canada is getting crushed there, and then the oil is being exported to China.
China was the top of importer of Canadian canola before this year. Seeds would be crushed in China, and then the oil would be used in everything from salad dressing to deep-frying, while the meal was used as livestock feed.
At the end of 2018,Canadian relations with China broke down with canola seed imports from two Canadian exporters being banned by China, citing "pests" found in shipments.
Crude Rapeseed Oil, FOB Rotterdam, traded USD 908.67 per metric ton in October compared to USD 903.07 per metric ton in September.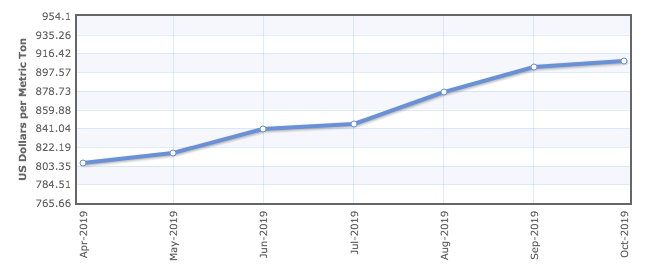 China-US Trade Impasse
Beijing's flagship Belt and Road Initiative – designed to link China trade through the Middle East, Africa and Europe with investments in infrastructure projects – has helped diversify the country's export profile. Although a select group of African states (14 out of 55) have not yet signed a memorandum of understanding on the initiative with Beijing, overall sentiment seems to be positive. While export figures recorded for the US dropped by 11.3 per cent in the first 10 months of this year, those for the European Union and the 10-member Asean bloc rose respectively by 5.1 per cent and 10.4 per cent.
Imports, though, remain a serious concern. They fell by 6.4 per cent in October, a smaller decline than the analyst consensus of 7.8 per cent and much lower than the 8.5 per cent slump in September.
Hope of an interim deal will help revive trade, but uncertainties linger as both sides have yet to finalize the details and set a date and location. Any meeting this month between two of the world's most powerful presidents appears unlikely, although it is hoped that arrangements can be made before a new round of US tariffs set for December 15 of 15 per cent targeting US$160 billion of Chinese imports.
China's COFCO To Buy $100 Million Pork From Danish Crown By 2020
China's state-owned agriculture conglomerate COFCO agreed to buy $100 million of pork from European pork producer Danish Crown in 2020 to help ease a domestic pork shortage following an African swine fever pandemic devastating the Chinese pig population.
The pork shortfall in the world's top producer is having global repercussions, driving up demand for imports of all meat and pushing Danish pork prices to their highest since 1997.
China's Brazilian Soybeans Purchases
Chinese importers have been busy buying soybeans from Brazil, despite ongoing talks with the White House to alleviate trade tensions. While Brazil is China's largest soybean supplier, large purchases from South America are unusual at this time of year with the U.S. harvest coming in.
State-owned firms COFCO and Sinograin, which are exempt from the 25% retaliatory duties on U.S. imports, have "little appetite" to buy unless U.S. prices drop. Before the trade war, China imported most of its U.S. soy between October and January, turning to South America around February. Hopefull Grain & Oil and Wilmar International are also believed to have waivers for tariff free US purchases.
US Soybeans traded at USD 381.65 per metric ton CIF Rotterdam at the end of October.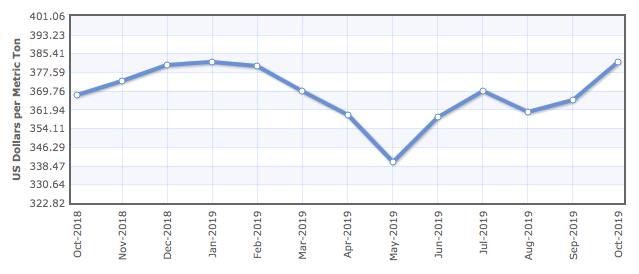 Interested in advertising with us?
Please contact us at advertising@panxchange.com
Do you have any news that you would like to share?
Please send to  rluwero@panxchange.com
-Editor in Chief, Ronnie Luwero