Hot Commodities: BYND Mania
Hi All,
The PanXchange April hemp pricing report is out, you can find the full report 
here
.
We will also begin onboarding clients to the physical trading platform in the coming weeks. Interested parties please visit our 
hemp trading page
 for more information.
Beyond Meat Mania
Markets hit Beyond Mania over the past week. After $BYND soared in the days following the IPO, others wanted in. Chanticleer Holdings Inc., who owns and operates a handful of burger chains with the largest being Hooters, announced they were rolling it out to roughly 50 restaurant locations.
Should agribusinesses and farmers be worried about the rise of Beyond Meat and similar meat alternatives? While Beyond Meat may seem like a hip California startup, investors in the company include Tyson Foods and General Mills. And the pea protein isolate, the main protein ingredient in the patties, is supplied in large part by Puris, of which 
Cargill is an investor
. Cargill is also investing in Cultured Meat – meat grown with self-reproducing animals cells, in August of 2017 
investing in
Memphis Meats
.
While the competition in the meat space would initially seen as negative for ranchers and farmers, diversifying the general crop mix away from the main grains and oilseeds – corn, soybeans, and wheat – is of huge benefit to farmers, as farmers switching to any profitable alternative crop, such as the yellow pea used in these burgers, will reduce supply of the traditional and currently unprofitable grains and oilseeds, increasing prices all else equal. And the pea protein isolate used to make the plant-based burger patties comes from the yellow pea plant which is a nitrogen fixer, offering farmers more planting options to rotate into their crop mix. There's little doubt that other competitors in the plant-based are working on recipes with ingredients based on other plants, further diversifying the mix. This IPO should be welcome to the agricultural industry across the board.
Grains See New Lows as Ag Economy Barometer Plummets
The Ag Barometer neared the lowest level in three years after a Trump tweet to start the week threatening to increase tariffs on $200 billion of Chinese products from 10% to 25%.
Flood and Planning Updates
Floods continue to cause problems across large portions of the U.S. growing belt. The planted acres for corn and soybeans across the major growing area fell further behind last year and the five year average in the May 5th release of USDA Crop Progress report.
With farmers this far behind on corn plantings, many may have no choice but to plant more soybeans, which have a quicker growing season. Additional acreage planted with soybeans could further depress already low soybean prices.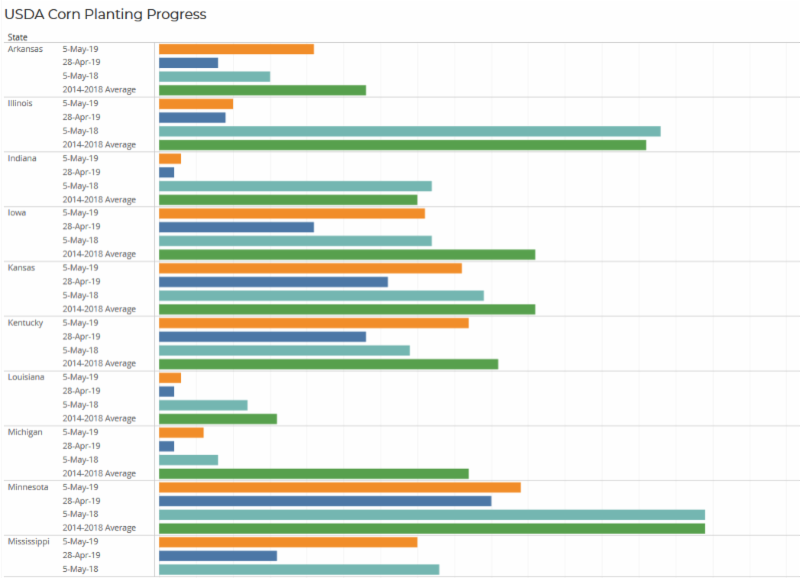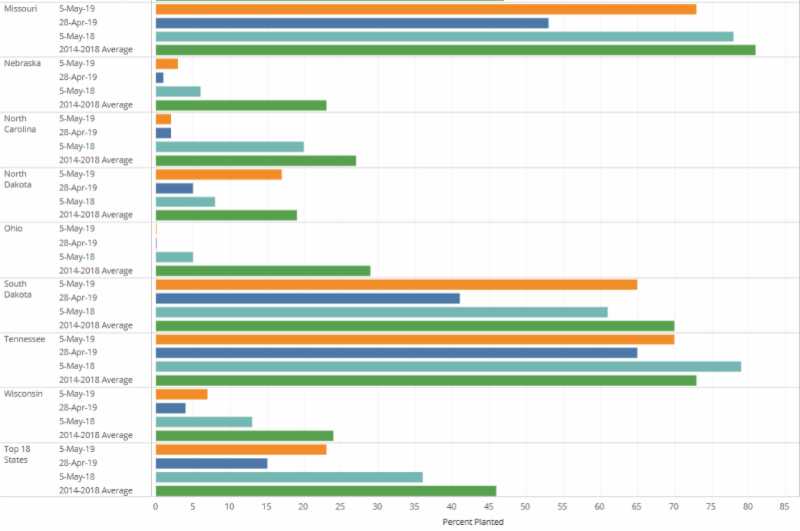 Blockchain Hemp!
It's a rare occasion when we get to combine our two favorite topics as of late: hemp and blockchain. The South China Morning Post reports that Grandshores Technology, a Hong Kong-listed blockchain investor, is entering into medicinal and industrial cannabis to move away from the "lethargic" cryptocurrency market.
Industrial scale hemp production is legal in two provinces in China: Heilongjiang in the north and Yunnan in the south. Because the hemp plant acts like a sponge and absorbs just about everything in its environment, areas in China with heavy air and ground pollution produce a hemp and CBD with higher contaminants like heavy metals and pesticides. Since CBD extraction processes can pull these contaminants in potentially dangerous amounts, we understand that U.S. based CBD crude oil, distillate, and isolate buyers strive to avoid purchasing China origin product. There's a lot of talk of European wholesalers buying cheap Chinese products, relabeling and transshipping to the U.S. claiming it's European origin. As of now, there are few ways to track product back to its origin.
In the marijuana industry, there's a pink "sticker" that follows a marijuana plant from the grower all the way to end users, validating the chain of custody through the entire supply chain. Some larger hemp and CBD companies have some origin tracking systems, but this hasn't yet been fully implemented across the hemp supply chain.
The most interesting part of this announcement is that the industrial hemp and CBD market could actually use a solution like blockchain to track CBD back to its origin. The ironic part relating to this story is that that blockchain solution would be specifically used to label Chinese origin CBD for rejection.
PepsiCo Advertising with Blockchain
PepsiCo and Mindshare, a media agency network which is part of WPP plc, announced the results from a blockchain based pilot project ran through March 2019. The program ran against a test budget control and found a "28% increased efficiency in terms of costs for viewable impressions, in running the campaign through smart contracts, versus one without."
This project is interesting as it measured actual efficiency increases (or really anything), used a control, and ran relatively under the radar. If the claims are true, this project is certainly a breath of fresh air in the cacophony of blockchain proclamations.
Blockchainia!
Interested in advertising with us?
Please contact us at advertising@panxchange.com
Have any newsworthy content you'd like to share or a super awesome ICO you want to pump?
Please send to  jyanus@panxchange.com
-Editor in Chief, Josh Yanus