We've officially decided to change the name of the Hot Commodities 80s metal-ballad cover band.
New name: Dandelion Latex.
Scientists and rubber manufacturers are teaming up to figure out how to grow a crop that is the bane of homeowners' existence: dandelions. Specifically, they're working on the Russian dandelion native to Kazakhstan, a cousin of the common variety that is a major weed in the U.S. The main problem with the Russian dandelion: growing enough of the crop. If researchers are able to overcome this hurdle and get dandelions to grow rampant, will there be a dandelion revolution in the U.S.?
The global rubber market consists of natural rubber, made from latex present in many plants but produced only from the rubber tree cultivated in tropical climates, and synthetic rubber, derived from petroleum products, mainly styrene and butadiene.
Tire manufacturing accounts for the largest use by sector for natural rubber, and tires are made with a blend of synthetic and natural rubber. Natural rubber produces a more grippy tire, while synthetic rubber increases durability. Depending on the durability and grip requirements for the different uses of the tires, the percentages vary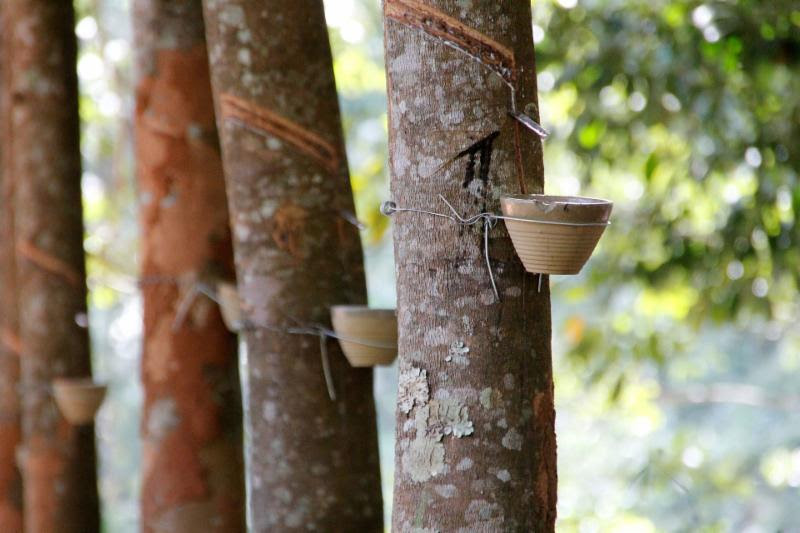 The overwhelming majority of natural rubber is produced in Southeast Asia, mainly Thailand, and Indonesia, and Malaysia and around 50% of the total demand comes from China and Southeast Asia (production numbers below). Natural rubber has seen a price slump in recent years, facing oversupply and slowing production due to environmental regulations from China, and the looming concern of a trade war.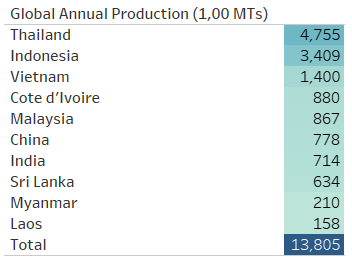 So would making rubber from dandelion latex be a worthwhile economic endeavor? Rubber prices have been in decline, sitting at multi-year lows, down almost 65% from the highs in 2011. Continental, one of the top global tire producers, claims to have built a tire made entirely from latex harvested from the Russian dandelion, but exact economics of production are not readily available. Under current market conditions where hub prices are below many established natural rubber producers' cost of production, the chances of producing a new crop economically are slim. If there are any future disruption to international trade, and specifically in the APAC region, the optionality for a reasonably economic supply chain on U.S. soil could play out.

New Futures Contract
Probably because of dandelions, the Tokyo Commodity Exchange (TOCOM) announced a new rubber futures contract, which listed Oct. 9th. In attempts to revitalize the exchange following a fairly steady decline in total trading volumes, which peaked in 2003, the new contracts are for technically specified rubber (TSR) in addition to the ribbed smoked sheets (RSS) contract. Tire manufacturers, and the rubber market in general, are moving away from RSS rubber — which is made by hand and visually graded, and thus typically rife with inconsistencies — towards TSR, which is machine-made and more consistent.
TOCOM's main competitors in the rubber futures market are the Shanghai Futures Exchange (ShFE) and SGX group's Singapore Commodity Exchange (SICOM) contracts. SICOM's TSR contract tripled in volume from 2014 to 2017, trading just under 1.5 million contracts in 2017. But the ShFE dominates the market by volume, trading around 90 million contracts in 2017.
Any rubber futures contract is difficult to physically deliver, with buyers claiming that each individual factory produces significantly different rubber. For a buyer executing a purchase on a futures contract with multiple FOB delivery ports, this makes the process particularly challenging. Many buyers claim they would never take delivery on the futures contracts available, as they would have no idea what they would be getting.
Frac Sand Update
Here's a snippet from our weekly sand update:
"Contrary to very weak market conditions for sand suppliers, there have been comments (for the first time in several weeks) of operators considering the switch back to northern white due to low pricing. The adage that "the cure for low prices is low prices" is certainly coming to fruition in the frac sand market, and we may see some opportunistic buying occurring in the northern white market. This sentiment will certainly be one to watch in Q1 as activity is guaranteed to pick back up."
Our frac sand team will have an update on forecasted Q1 completion activity in the near future. Click below for information on our data offerings.
Trafigura Spinning off Impala
Trafigura is spinning off and selling 50% stake in Impala Terminals, the wholly-owned subsidiary that owns and operates ports, terminals, and warehouses around the world.
The move comes after a tough year for Trafigura, with gross profit down to $979 million in the six month period through March 1, 2018, down from $1,238 million in the same period 2017. The core Oil and Petroleum division accounting for 69% of total group revenue was hit particularly hard, with profit dropping to $221mm from $470mm over the same period.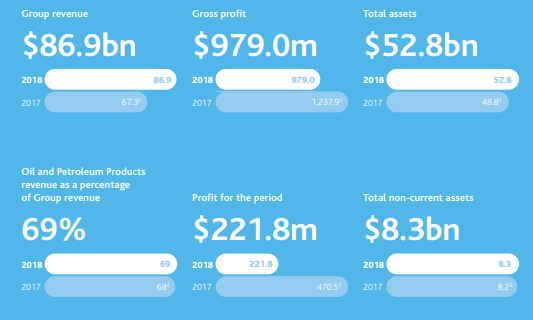 With wide crude quality and locational spreads for the second half of the year, Trafigura profits likely turned for the balance of the year.
Lumber Markets
Farmers in the Southeast U.S. are facing pressure as a major federal program started decades ago is coming to fruition. The federal program, started in the 1980s, offered farmers a subsidy to reforest land cleared to plant tobacco, cotton, and grains. The program was aimed at propping up crop prices depressed by acreage increases, as well as help fix erosion, water quality, and flooding issues. The pine in the South is now ready to harvest, and the true scope of how many farmers planted a few decades ago is becoming clear.
While national lumber prices recently hit record highs, mills in the South are running at full capacity, and freight costs for raw timber are too expensive to make shipping the raw material across the country to other regions economic. The result is that the "saw spread" is high, mills in the South are making record profits, and a slew of investment in mills in the South has been announced.
Will the farmers who planted see any of the benefit? With the glut expected to continue for years to come and stockpiles still at record highs, the trees might be sitting in the forest for a while.
Blockchainia!