Hot Commodities: Wheat, Coffee, Pigs, Agriculture, Hunger, and Climate Goals
[July 16th, 2021]
Hi all,
This week we look at Argentina's large grain harvest for the coming season, the price rises in the coffee market with demand exceeding production for the first time since 2017, and now the US maintains the top position for Kenya's coffee exports. We will look at the options of genetically engineered pigs for the pork industry in order to fight disease, and then projections from the United Nations' Food and Agriculture Organisation and Organisation for Economic Cooperation and Development for agricultural commodities prices to ease over the next decade despite Increased emissions and hunger remaining consistent.
Argentina Expects 19 Million Tons of Wheat Harvest, With 12 Million Tons for Export in 2021/2022
Argentina will see wheat exports reach 12 million tons in the 2021/22 winter harvest, which will be the highest level since 2016/17, a 26.3% increase on the current crop.
According to Merco Press, the Buenos Aires Cereals Exchange estimates this increase based on the growth of production projected at 19.15 million tons, compared to 17 million tons in 2020/21. The domestic consumption by the millers is expected to reach 6.5 million tons leaving a large surplus for export.
The country's 2020/21 corn harvest was estimated at 48 million tons, with 33 million tons being exported. Brazil has become a major buyer of Argentina-originating corn for its feed industry since it experienced a large-scale drought.
Coffee Prices Soar After Bad Harvests and Insatiable Demand
As Brazilian coffee farmers overcome the long drought, global coffee prices have been climbing. Arabica is the main variety from Brazil, reaching its highest price level since 2016 with the New York-traded Arabica futures, which have risen 18% in the past three months to $1.51 per pound.
The London traded robusta, the stronger variety used in instant coffee, has seen a 30% rise to $1,749 per metric ton in the last three months. This two-year high was reported in The Wall Street Journal.
The Brazilian coffee harvest is expected to have its biggest year-on-year fall since 2003, according to the USDA forecast.  The Arabica crop is expected to see a fall in 15 million 132-pound bags from 2020. The decline in the crop this year has some trade houses and banks more bearish with estimates of 17-23 million bags. Brazil's total production in 2020 was 70 million bags, with just under 50 million bags being the arabica variety.
This year's global coffee consumption is expected to exceed production for the first time since 2017, with estimates at 164 million bags produced compared to 165 million bags.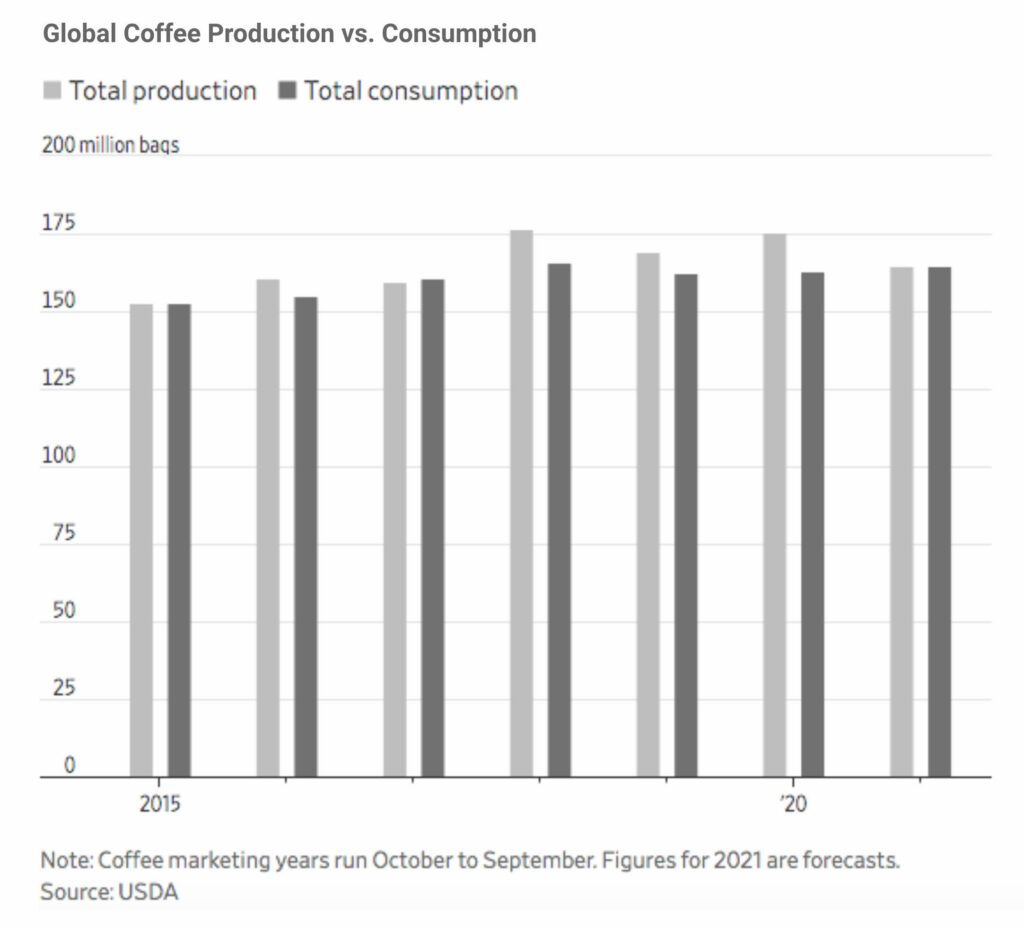 US Retains Spot As Top Global Buyer Of Kenyan Coffee
The United States has again been the top export destination for Kenyan coffee ahead of Belgium and Germany after purchasing 9.1 million kgs worth $40.7 million in the period of 2019/20. This reflects an increase from 6.6 million kgs in the previous year.
According to Business Daily Africa, the Coffee Directorate in Kenya has seen the US become the top buyer from 2018 after Kenya marketed its specialty coffee at the 2018 Specialty Coffee Association of America symposium in Seattle.  
In the 2020 season, the US bid $4.40 per kg compared to Germany's proposal of $3.80 per kg, so most shipments were delivered to the US market. Germany has received $33.3 million worth of coffee from their orders up to October 2020, while Belgium also received approximately $34.5 million worth of coffee in the same period.
Kenya plans to increase coffee production by 5-10% annually over the next five years despite the concerns of the falling yields and reduced acreage covering coffee plantations. The productivity of coffee in Kenya per bush has fallen from 10 kg in the 1980s to the current 2 kgs.
Genetically-Engineered Pigs To Be Reared To Fight Disease
Genetically engineered pigs that can be resistant to Porcine Reproductive and Respiratory Syndrome will be developed by Edinburgh University's Roslin Institute to reach large pork-producing markets. This Virus costs the US and Europe approximately $2.5 billion each year. 
According to The BBC, critics have raised animal welfare concerns and the issue of discouraging farmers from improving the welfare of their livestock with an alternative of a disease-resistant flock.
The disease is known to cause breathing problems and death in young animals, and vaccines have not been successful enough in the spread of the virus that causes the syndrome, which has been endemic in most pig-producing countries.
Agriculture Prices To Ease But Hunger And Climate Goals Are Far Off -FAO/OECD
In a joint report by the UN Food and Agriculture Organisation (FAO) and the Organisation for Economic Cooperation and Development (OECD), food commodities will be expected to become cheaper over the next decade with the increase of productivity. Still, the reduction of hunger and lower carbon emissions will fall short of targets.
As reported by Reuters, China's demand will remain key to the global agricultural markets, especially with meat, fish, and feed grains, but the pace will be at a lower level than it has been for the past decade.
Agricultural exports from Europe and Central Asia are expected to double over the next decade, with Russia and Ukraine increasing grain production. Sub-Saharan Africa's net imports will see a 75% rise by 2030 with key staples of wheat, rice, maize, and soybeans.
Greenhouse gas emissions from agriculture are expected to increase by 4% over the next decade, with the livestock industry covering 80% of the rise and resulting in the UN goal for reduced emissions by 2030.
Interested in advertising with us?
Please contact us at advertising@panxchange.com
Do you have any news that you would like to share?
Please send to  rluwero@panxchange.com or eshoemaker@panxchange.com
-Editors, Ronnie Luwero and Emily Shoemaker