Latest Hot Commodities: Energy, Carbon, & ESG Commodities
(May 20th, 2021)
Hi all,
This week we look at how some countries are cutting back on fossil fuel production to remain in line with Paris Agreement commitments. Along with the launch of Emission Trading Systems in Europe and the outlook for essential commodities for this decade.
Spain To End Fossil Fuel Production By 2042 Under New Climate Law
The Spanish government has approved a climate law that will cut emissions by 23% by 2030 and ban any new coal, oil & gas exploration and production permits immediately. 
According to the Euractiv publication, the new climate law will prohibit the sale of fossil-fueled vehicles by 2040. It will also ask 74% of the country's electricity to come from renewable sources by 2030. 
The Spanish government's emission reduction target is lower than other European countries, including Germany and the UK. The former stated that it would cut 65% of emissions between 1990 and 2030 while the latter committed to 68% of cuts during the same period.
Russian Businesses Start Counting Cost Of European Union Carbon Border Tax
Russian companies are set to be hit with extra surcharges to access the European Union market with the carbon border adjustment mechanism (CBAM) coming into force.
According to The Financial Times, Russia, Europe's biggest supplier of carbon-intensive goods worth 10 billion Euros in 2019, is one of only two G20 countries that do not have a domestic carbon tax and no emissions trading platform. Estimated costs of the new levy for Russia vary, with the natural resources ministry stating $3 billion a year, but KPMG estimates $60 billion between 2022 to 2030. 
The Russian state has long been an outsider with climate change participation even though it joined the Paris agreement in 2019. The European Union and the United States pledged to reach net-zero emission by 2050.
Russia's commitments to cut carbon footprint have only seen a target of cutting 70% between 1990 and 2030, allowing for increases within this period.
Due to investor pressure, many Russian companies have claimed that they are ready to reduce emissions to retain market share. Russian companies are also aware that once Moscow launches its carbon regulation, it may face double taxation in Russia and the EU. 
What Is Britain's New Emissions Trading System?
The UK launched its domestic emission trading system (ETS) to meet climate goals of net-zero fossil fuel emissions by 2050. Companies will be able to buy carbon permits for each ton of C02 they emit, and the scheme will cover approximately 1,000 power plants, factories, and airlines, according to Reuters.
There will be similarities between the UK's ETS and the EU's, but the UK has set a minimum auction price of £22 a ton for the permits and created a "cost containment mechanism." That will allow the issuing of more permits to guard against price hikes. 
On the first day of trading on the UK's ETS, The Financial Times reports with the pricing hitting £50 per ton before losing 10% on a choppy first day. This indicates that big polluters may face higher costs than companies within the EU.
The inaugural auction saw all 6 million credits sold to 14 bidders at £43.99 or €51 while the EU system hit a record high of €55 last week but reduced €49 a ton this week.
Stop New Oil Investments To Hit Net-Zero Emissions, IEA Says
The International Energy Agency made headlines recently, stating that to reach the net-zero carbon emissions target by 2050, investments in new fossil fuel projects would need to cease immediately. There will also need to be a rapid acceleration of wind and solar energy capacity and a halt in sales of combustion-engine cars by 2035, as reported by The Wall Street Journal. 
The IEA indicates that to limit the rise in average global temperatures to 1.5 degrees Celsius or less, significant and immediate action must be taken as per the terms of the 2015 Paris climate agreement. 
As such, several of the world's biggest oil companies, including BP PLC, Royal Dutch Shell PLC, and Total SA, have made firm commitments to diversify their energy portfolio by reducing fossil fuel operations and increasing investment in low carbon energy projects. 
Denmark, a small oil producer by international standards, has committed to ending all new oil and gas exploration. Other governments are encouraging the transition to electric vehicles, which still have low sales of 4.6% of cars sold in 2020. 
The IEA sees the need to double investment in the global energy sector from $2 trillion to $5 trillion by 2030 to have a reliable and economical supply of low-carbon energy. 
Commodities That Will Rule The Green, Digital transition
Fitch Solutions has forecasted some traditional commodities to boost over the next 20 years during a period of green and digital transitions in the commodities industry that will also see newer products become even more critical. 
According to The Mining publication, commodities such as copper, nickel, tin, aluminum, and lithium will have a boom in demand from an expected "battery revolution." Cobalt and rare earths will be part of the demand in the shorter term. There are expected to be vulnerabilities in its sustainability and its concentration of production in political hotspots within the longer term. 
China's "New Infrastructure" plan and the decarbonization of the manufacturing sector will require high quality, light, and lower carbon steel for the industry. This could result in a demand for scrap metal up to 2030 as it would offer sustainable solutions that would meet carbon footprint targets. 
Fitch Solutions expects green hydrogen production to see an increase from less than 1% to 10% supply to the global markets. Green hydrogen production comes from renewable sources that are seeing lower operating costs. It does not have geographical limitations, can be developed in short periods, and offers a zero carbon footprint.
Carbon credits are not considered a commodity in the traditional understanding of raw materials or natural resources, but Fitch sees similarities with commodities markets. As carbon trading systems increase their importance in the decarbonization of industry-led by corporations and governments, Fitch forecasts carbon credits as a sector likely to see a boom over the next decade. 
The European Union has been a leader in the development of carbon credit trading with its emission trading system that will allow the industry to offset their emission at a continental level with the participation of some of the largest companies in the world. 
Fitch sees Europe's carbon trading system as a core driver of energy transition in the region and sees an increase in new industries participating. This system will offer more volume and liquidity as it also expects China's very own emission trading system (set for a 2021 launch) to grow significantly over the next decade.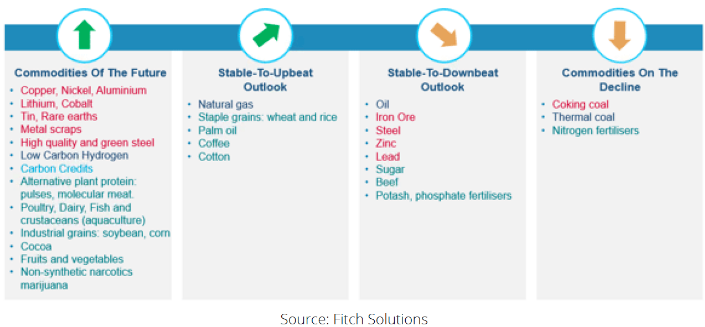 Europe's Banks Fall Out of Love With Commodity Traders
Interested in advertising with us?
Please contact us at advertising@panxchange.com
Do you have any news that you would like to share?
Please send to  rluwero@panxchange.com or elopez@panxchange.com
-Editors, Ronnie Luwero and Elena Lopez Del Carril